Chancellor George Osborne to reveal taxpayers' spending statement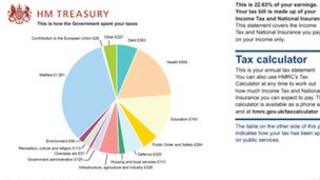 Chancellor George Osborne is to set out plans in the Budget to give 20 million people a detailed breakdown of how their taxes are spent.
The plan, to be introduced in 2014, will set out how much people pay in direct taxes such as national insurance and income tax, outlining proportions used for education, health and welfare.
A Treasury source said it was "right" that people knew how taxes were spent.
It is part of attempts by ministers to make the tax system more transparent.
For example, someone earning just over £25,000 would pay £5,700 in direct taxes. Of that, more than £1,900 would go on welfare and pension payments, nearly £1,000 on health and £750 on education.
And £360 - some 6% - would go on national debt repayments.
The statement will not take account of indirect taxes such as VAT and fuel duty, although ministers are planning an online calculator to show people how much of these taxes they are paying too.
In November, Exchequer Secretary David Gauke announced the government's vision for greater tax transparency.
Speaking at the launch event, he said: "At the moment, for a lot of people, the tax line on their payslip is the only time they see just how much they're paying in tax, but the government doesn't think that's good enough.
"We want to make tax more transparent and we want people to be more engaged with their own tax affairs."
John Whiting, from the Chartered Institute of Taxation, welcomed the idea, saying that while HMRC and the government were responsible for running the tax system, people needed to take some responsibility in their own tax position.
"Of course there are lot of issues," he added, "For example, linking systems together, setting up help systems for people to sort out queries, managing confidentiality issues.
"But these should be soluble and shouldn't stop the idea being taken forward."