Beano's Dennis the Menace on Royal Mail comic stamps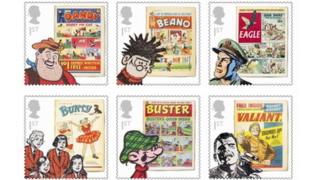 Some of Britain's best-loved comic book characters will grace a new set of stamps to be issued by Royal Mail.
Dennis the Menace of The Beano, The Dandy's Desperate Dan and Roy of the Rovers are among the characters to be featured.
The 10 first class stamps are intended to mark the 75th anniversary of the The Dandy, UK's longest-running comic.
A Royal Mail spokesman claimed the comics were virtually "British institutions".
Philip Parker said: "For more than a century Britain's uniquely eccentric comics have brought cheer to generations of readers.
"More importantly, it has presented us with a cast of characters that, like the memories of those comics themselves, remain with us throughout our lives.
"The Dandy, celebrating its 75th birthday this year, and The Beano, which will do likewise next year, are almost British institutions and it feels appropriate to celebrate these comics and their characters."
Best-selling comic
The Dandy was launched in 1937 by Dundee publishing company DC Thompson. By the 1950s it was selling more than 2m copies a week.
But the Beano then overtook it and remains the country's best-selling comic.
The other comics to feature in the collection are Eagle, The Topper And Tiger, Bunty, Buster, Valiant, Twinkle and the science fiction title 2000AD.
The stamps go on sale on Tuesday.