Doctors to challenge coalition MPs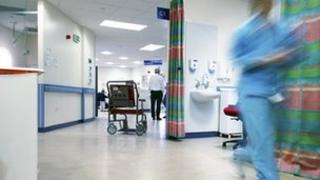 A group of doctors has threatened to put up candidates to oppose coalition MPs at the next election in protest at proposed changes to the NHS in England.
In a letter to the Independent on Sunday, signed by 240 doctors, the group claims the Health and Social Care Bill "fundamentally undermines the founding principles" of the NHS.
GPs would play a key role in managing the NHS budget under the plans.
Ministers insist the changes will make the NHS more efficient.
In the letter, the doctors wrote: "It is our view that coalition MPs and peers have placed the political survival of the coalition government above professional opinion, patient safety and the will of the citizens of this country.
"We are shocked by the failure of the democratic process and the facilitating role played by the Liberal Democrats in the passage of this Bill.
"We have therefore decided to form a coalition of healthcare professionals to take on coalition MPs at the next general election, on the non-party, independent ticket of defending the NHS."
Dr Clive Peedell, a cancer specialist and co-chair of the NHS Consultants' Association, organised the letter.
He told the newspaper he had originally hoped to get just 50 names.
Dr Peedell said the group would field "as many candidates as possible" at the general election, with other supporters acting in administrative and fundraising roles.
Deputy Prime Minister Nick Clegg and Health Secretary Andrew Lansley, the minister who is the driving force behind the changes, are expected to be among the politicians targeted by the move at the next general election, due in 2015.
Tribunal judgement
The government has already made several amendments to the bill aimed at appeasing its critics, including greater patient involvement and strengthening the role of the watchdog Monitor in requiring providers to promote integrated healthcare.
The controversial Health and Social Care Bill faces a fresh obstacle in its parliamentary passage on Monday, when peers are likely to vote on whether to delay it pending possible publication of a confidential risk assessment drawn up by civil servants.
Last week, a Department of Health appeal against an order by the Information Commissioner to publish the "transition risk register" was thrown out by a tribunal.
Ministers have said they will not decide whether or not to launch a further appeal until they have seen the full judgment from the Information Rights Tribunal.
However Lord Owen, a former doctor and SDP leader, has put down a motion which would delay the third reading until after the government has responded to the full judgment, or until "the last practical opportunity" for agreeing the Bill before the end of the parliamentary session in early May.