Archbishop of Canterbury ready for change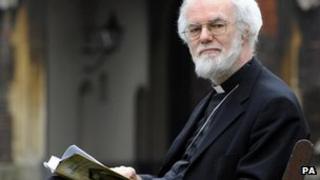 The Archbishop of Canterbury has said he chose to resign in December because, after 10 years in the role, it was the "proper time" to review his options.
Dr Rowan Williams, 61, said he was also aware that the Anglican Church faced several "watershed" moments this year.
And he said his successor would need the "constitution of an ox and the skin of a rhinoceros" to deal with them.
In January he will return to academic life and become Master of Magdalene College at Cambridge University.
Dr Williams was appointed the 104th Archbishop of Canterbury in 2002.
The Crown Nominations Commission will consider "in due course" the selection of a successor.
The head of the 85 million-strong Anglican Communion said he felt that the Church of England was "a great treasure" and the UK still had a lot of interest in the Christian faith.
He said his successor would take on a job with "immense demands".
"But he will, I think, have to look with positive, hopeful eyes on a Church which, for all its problems, is still for so many people a place to which they resort in times of need and crisis, a place to which they look for inspiration," he said.
He said having been in the role for 10 years and a bishop for 20 years before that, it was now time for him to reflect and pray.
"When a possibility arrived that looked credible and attractive, it seemed right to think about it," he added.
He said his role had been of "enormous privilege" allowing him access to communities around the world.
He added: "I think there must be very few jobs where you have quite that degree of open doors for you."
Dr Williams also reflected on the growing divisions within the Anglican Church, and said it seemed some conflicts would not go away "however long you struggle with them".
Under his leadership, the Church of England has come close to splitting over the ordination of gay clergy and women bishops. Dr Williams has consistently supported the ordination of women, and previously showed no objection to the appointment of an openly-gay bishop in Reading.
Dr Williams said: "The worst aspects of the job, I think, have been the sense that there are some conflicts that won't go away, however long you struggle with them, and that not everybody in the Anglican Communion or even in the Church of England is eager to avoid schism or separation.
"But I certainly regard it as a real priority to try and keep people in relationship with each other."
Dr Williams also reflected on his controversial remarks in 2008 that adoption of certain aspects of Sharia law in the UK seemed "unavoidable," saying he stood by his argument.
"It could have been clearer, I am sure, that can always be said - especially of things I write," he added.
The archbishop said that he believed there was still "plenty of goodwill" and he felt "upbeat" about the General Synod's forthcoming vote on formalising legislation around women bishops.
His resignation was met with a mixed response.
The Archbishop of York, Dr John Sentamu - who has been mooted as a possible successor - said he had received the news "with great sadness" and described Dr Williams as a "remarkable and gifted leader".
Church of England General Synod member Alison Ruoff said: "He's a kind, wise, warm, godly man, but had he actually stood up and been counted as a leader, I think we would be in a very different place in the Church of England from where we are now, and that is thoroughly regrettable."
Dr Williams will continue to carry out all the duties and responsibilities of the Archbishop of Canterbury, both for the Church of England and the Anglican Communion, until the end of the year, Lambeth Palace has said.
A statement on the Magdalene College's website said Dr Williams had the "capacity and vision to guide the college in a time of unprecedented change in higher education".