The Rowan Williams approach to Anglican controversies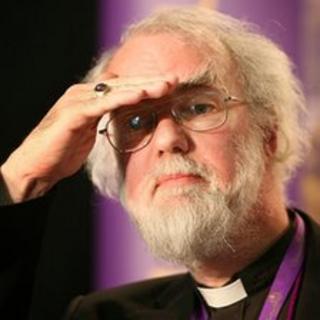 There is no need to see Rowan Williams's announcement as a sign that he is being "forced out".
Dr Williams, 61, had been expected to announce his retirement soon; if he had not stayed to take part in this summer's Diamond Jubilee celebrations it would have been more of a surprise.
What is certain is that his departure will see an end to his own particular style of handling the serious controversies facing Anglicans - in Britain, the debate over women bishops; worldwide, the row over gay clergy.
An academic theologian, he lacks the politician's instinct to knock complicated arguments into two or three bullet points or a soundbite. So his contributions to debates on the two great Anglican controversies have been lengthy, carefully delivered, and incomprehensible to some.
This can leave both parties in an argument thinking he has backed their side, or it can leave both factions angry and feeling that he has fudged the issue.
It can also produce unity - at least for a time.
Women bishops
The Williams touch was in evidence at last month's General Synod session, which saw further attempts to refine the legislation providing for women bishops which the synod will vote on in July.
Almost everyone accepts that there will be women bishops; everyone accepts that male stand-in bishops will be appointed to cater for those congregations who do not wish to accept a woman bishop's authority.
The remaining point of disagreement is only over the extent to which the stand-in bishop will be subordinate to a woman bishop of the diocese they are working in.
To outsiders, and to many people in the pew, that may seem superficial or abstruse, or both at once, but it is the sort of controversy in which people of any religion will find issues of great importance.
And it is just up Dr Williams's street.
He and the Archbishop of York, John Sentamu, proposed a compromise in 2010, by which the stand-in bishops would be said to derive their authority in part from the legislation as well as from the diocesan bishop.
It was almost carried by the General Synod but was defeated in the House of Clergy, where the influence of women priests is strongest.
Global stage
Last month Dr Williams returned to the fray and impressed many people with a fresh analysis of the problem of the stand-in bishops, in which he drew a distinction between the "delegation" and "derivation" of authority.
It remains to be seen if this will result in a last-minute amendment which will leave the supporters of women bishops satisfied and stop further defections by their opponents.
On the global stage, Dr Williams's tenure has seen the growth of an alternative Anglican institution usually referred to as Gafcon (from the Global Anglican Future conference in 2008).
It has led to a number of Anglican provinces - mostly in parts of Africa but some in South and North America, Asia and the Middle East - switching their allegiance to the Gafcon primates' council rather than the official Anglican Communion and boycotting the traditional Lambeth conference of Anglican leaders.
Gafcon leaders are very sceptical in the area of gay rights and implacable in their opposition to the appointment of homosexuals as bishops. While they affirm their historic ties with Dr Williams's office, they believe he has not been forthright enough in condemning such appointments, especially in The Episcopal Church (TEC) in the United States.
The Williams touch, which has helped keep the women bishops row within bounds in the Church of England, has been less successful in the global controversy.
Gafcon has accused the Anglican Communion of "failure to exercise discipline" and complained that "despite numerous meetings and reports no effective action has been taken" to exclude TEC.
Restore unity
Dr Williams's successor will be a political appointment, with the advice of the Prime Minister playing a decisive role.
Dr Sentamu has been closely identified with Dr Williams's efforts to find a suitable compromise in the row over the status of stand-in bishops.
But in any case, by the time Dr Williams's successor takes over, the women bishops row will probably have been decided.
In the political area, Dr Sentamu has firmly opposed himself to David Cameron. He has led Anglican opposition to the proposal to allow same-sex partnerships to be designated as marriages.
Not appointing Dr Sentamu would certainly attract comments that the Archbishop of York was being set aside on political grounds.
That might or might not be justified - but appointing a bishop who was outspoken in support of gay rights as Archbishop of Canterbury would probably make it impossible to restore unity between the Anglican Communion allied to Canterbury and Gafcon.