Leveson Inquiry: Summary of week 14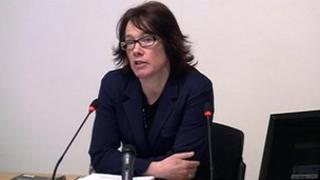 This week the Leveson Inquiry into media ethics heard of the potential damage from police leaks to the media but also the importance of keep informal lines of communication open.
On Thursday Det Ch Insp Clive Driscoll told the inquiryon those involved.
Mr Driscoll said within hours of meeting with Mr Lawrence's mother and her lawyers in 2007 he was told an article - apparently based on the information discussed - was going to appear in the Daily Mail.
The reporter, Stephen Wright, told him that no police source had been involved but that everyone involved in the investigation "became a suspect" and the article undermined the police relationship with the Lawrence family.
In his evidence, Mr Wright told the inquiry the article would not have been published if it was thought it could jeopardise the investigation.
He said he would rather not say it the source had been a police officer.
'Health warning attached'
Mr Wright said what reporters did not write was as important in gaining police confidence as what they published.
Crime Reporters Association president Jeff Edwards also said crime reporters had to "adhere to codes of conduct". "If you don't behave to a high standard your reputation will still get around - there's a health warning attached to you," he said.
Met Police director of communications Dick Fedorciothat he had hired ex-News of World (NoW) deputy editor Neil Wallis as a consultant because he wanted someone he knew and trusted.
In July last year, MPs on the home affairs committee criticised Mr Fedorcio for failing to conduct proper checks on Mr Wallis. He has been on extended leave since August 11 while his appointment of Mr Wallis is investigated.
Mr Fedorcio said Mr Wallis' company Chamy Media was 50% cheaper than the two rival firms he invited to bid.
Until then, he said, Neil Wallis was: "Someone I probably saw two, maybe three times a year, usually at one of the dinners the commissioner would have with News of the World."
'Inappropriate flow of information'
Mr Fedorcio also told Lord Justice Leveson that new guidelines were issued to Scotland Yard's management board in February 2008 after an "inappropriate flow of information" to the media.
He said any one of 40 people could have been behind the leaks to the press.
Mr Edwards also referred to a time when it had been known that a "small number of former police officers" were offering information to journalists and it was suspected the information was coming from serving officers.
He said he had been encouraged to bribe police officers to get stories while working as a crime reporter in the 1980s but had not done so.
Met Assistant Commissionerthe police service was "less corrupt than it has ever been".
She said there was no "culture" of leaks but conceded that some officers had been prepared to take money for information but insisted they were isolated individuals.
In her evidence, Guardian crime reporter Sandra Laville said the Metropolitan Police had shut down informal lines of communication in "an over reaction" to stories of its relationship with the media.
"Information is being constantly channelled through the official source and police officers are not willing to talk," she said. "And they're scared of talking."
Rather than clamp down on communication it would be better to trust them and "encourage best practice", Ms Laville said.
"You can't hold them to account by taking information from the official channels only," she said.
Mike Sullivan, crime editor of The Sun, said he was under the impression the Metropolitan Police had a system of grading reporters depending on how favourable their stories were.
"I don't know how they do that, on what basis they make their judgment, I don't suggest it's a top 20, who is that person who is going to be more favourable to the Met than others, but I was told that system existed and I quite believe it," he said.
Mr Sullivan, who was arrested in January over alleged corrupt payments, told the inquiry he believed that he would have been one of a circle of reporters Mr Fedorcio would have trusted to talk to.