Pothole repairs cost £90m, says asphalt industry report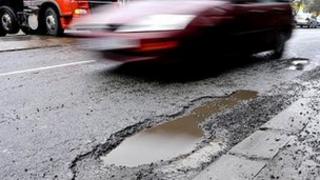 Councils spent £90m repairing 1.7 million potholes across England and Wales last year, a survey suggests.
But it will still take more than a decade to clear the backlog, says the Asphalt Industry Alliance (AIA) report.
Local authorities say that while repair costs have fallen, £10bn is still needed to bring roads up to standard.
Councils received £200m in emergency funds after freezing weather in 2011 exacerbated the problem and ministers say they recognise an "ongoing need".
Potholes are formed when water runs through cracks in road surfaces, freezes and so expands, causing the surface to rupture and creating a void which later caves in under the weight of vehicles.
However, the AIA report suggested two-thirds of local authorities had been unable to make good damage caused by the cold weather of 2010-11, despite the emergency funding and a milder winter this year.
'Decades of underfunding'
It said the number of complaints to local authorities from the public about the condition of roads increased by 10% last year.
AIA chairman Alan Mackenzie said: "Severe winter weather would not, in itself, produce a plague of potholes on well-maintained roads.
"These disastrous figures result from decades of underfunding and enforced short-term planning."
Highways engineers had been unable to carry out necessary preventative work, leaving one-in-five local authority roads with a life of less than five years, he added.
The report did not cover Scotland, where authorities paid out £1.7m over four years in compensation for damage to vehicles caused by potholes.
A recent AA study suggested Scotland had a higher number of potholes per mile than the rest of Britain.
The motoring organisation says itsStreetwatch surveylast October resulted in volunteers across Britain reporting 14.9 potholes on average, compared with 12.5 in 2010.
AA president Edmund King "We need a new approach to stop this vicious circle of decline which causes danger to all road users, particularly those on two wheels, and expensive damage to vehicles."
On Tuesday, MPs on the Public Accounts Committee warned the UK's road network could deteriorate as a result of cuts in road maintenance spending.
'Chasing tails'
Overall savings would not be made if this ultimately led to higher repair costs and more claims by motorists against councils for damage to their vehicles, it said.
The Local Government Association, which represents councils in England and Wales, said the average cost of filling potholes had reduced from £64 to £48 apiece in the last two years.
But its economy and transport board chairman Peter Box said: "Councils are currently stuck in the position of chasing their tails, repeatedly patching up a deteriorating network rather then fixing it properly."
Increased central government funding would save billions of pounds in the long term, he added.
Transport Minister Norman Baker said the government was providing £3bn to councils for road maintenance between 2011 and 2015.
"I recognise there is an ongoing need for highways maintenance that can't be fixed overnight," he added.