Winsor review to seek radical police pay overhaul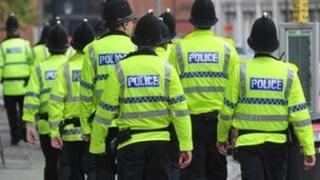 An independent review is expected to propose radical changes to how police officers and staff in England and Wales are recruited, assessed and paid.
Lawyer Tom Winsor said his latest report provides a "golden opportunity" for a more efficient police service.
His first review last year resulted in changes to police pay and allowances - estimated to save about £150m a year.
He has said he will tackle the issue of officers who are on "restricted duties" - often due to medical conditions.
Home Secretary Theresa May commissioned Mr Winsor to carry out the review.
It is thought that Mr Winsor will also recommend overhauling the system of police recruitment.
At present, as soon as they have completed their basic training all new officers begin their careers as a constable.
But Mr Winsor has been examining whether people should be able to join the police at higher ranks - such as inspector level.
The Winsor review has also considered if pay should be based more on performance than years served, and whether officers need to undergo regular fitness tests.
Reduced hours
On TuesdayMr Winsor told the Home Affairs Select Committeehe would examine the effect those on restricted duties had on police budgets.
Those who fall into this category include warranted police officers who work reduced hours in back-office roles after injury or ill-health - yet still receive full pay.
He told the committee: "The toughest jobs are the ones where you face the public, you face danger, and you work shifts.
"The skilled jobs are ones that require higher level of skill for example public order, firearms, detectives and neighbourhood policing.
"But there are officers who are in the back office who are doing administrative jobs which you do not require powers of a constable to do."
In January Mrs May approved a pay deal for police following most of the recommendations set out in Mr Winsor's first report.
Her confirmation came afterPolice Arbitration Tribunal agreed to 10 of 18recommendations made in the review.
The BBC's Danny Shaw said it was likely likely this review will be just as well received by ministers, though the proposals may take longer to put into effect.