London 2012: Olympics plan to combat summer drought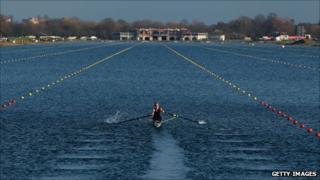 As parts of the UK face restrictions on water usage within weeks, work continues to ensure Olympic venues will not be affected by the drought.
Two very dry winters have left rivers, aquifers and reservoirs in southern and eastern England below normal levels.
And the Environment Agency has warned drought conditions will spread across England, unless strong rains arrive.
But it said the Olympic Park and other venues have a high level of resilience to meet their needs, even in a drought.
When London secured the Games in 2005, water demand was identified as an issue for organisers Locog, Defra and the water companies.
'Sustainable supplies'
Based on what happened at previous Olympic Games in other cities, it is predicted demand for water could rise in London by up to 5% during this period.
This takes into account predictions of people moving out of London for the holiday period, against those heading into the city for the Games.
Games planners have had to balance this increase in demand with a rapidly reducing water supply.
In January, water company figures showed London and the Thames Valley had received below-average rainfall for 18 of the previous 23 months.
The amount of water in the River Lee, which runs through Hertfordshire, north-east London and the Olympic Park, was only 24% of its usual level.
In response to the drought conditions, seven water firms in southern and eastern England announced this week they are to introduce a hosepipe ban on 5 April.
Thames Water said: "The reason we are imposing a temporary use ban is so that we can save water now so we have enough to go around later.
"By using less water, we have to take less from the river and therefore can try and protect the watercourses in our region, including the River Lee."
The Environment Agency said plans to use water from "sustainable supplies" were also in place to ensure the Games would not be adversely affected.
On the Olympic Park 40% of the water expected to be used will come from recycled supplies.
The Old Ford water treatment plant on the site, which cleans up water from a Thames Water sewer main, can produce 574,000 litres of non-drinking water a day and organisers say this will help reduce the Park's reliance on tap water by 58%.
A supply network for non-drinking water, fed from the recycling plant, has been installed across the Park and will be used for irrigating lawns, flushing toilets and washing paths.
Locog said: "Most of the Park is irrigated using non-drinking standard water so the common landscape and public areas would be fine, assuming we don't have very low flows in the sewer that feeds the Old Ford plant.
"The additional needs of the Park of non-potable water are currently being investigated and we will be working... to help come up with more water-efficient ways of working."
Borehole supply
The EA said: "For most (Olympic) venues potable water is the backup supply and in some cases borehole supply can be used. In those cases where neither potable water nor borehole supply is an option we could be asked to allow water to be supplied from the River Lee."
Supplies to the rowing lake at Eton Dorney near Windsor, in Berkshire, are largely linked to the levels of the nearby River Thames.
If the levels of the river were to drop exceptionally low then water could be taken from a private confined borehole near the site.
Water from a chalk borehole would be used as a contingency to maintain water levels at the Olympic Canoe Slalom at the Lee Valley White Water Centre in Hertfordshire.
"We have licensed the canoe slalom to abstract from a confined chalk borehole to top up the slalom course. Should additional water be required it will be obtained from Thames Water," the EA said.
And while the impending hosepipe ban will apply to watering shrubs, ornamental lawns and hanging baskets at the Olympic Park, Greenwich Park and Hyde Park, watering fields of play would be acceptable due to an exemption clause.
Jacob Tomkins, managing director of Waterwise - which raises awareness of water efficiency - said it was unlikely the drought would have an impact on the Olympics.
He said: "There are special dispensations for sporting events and these will have been agreed when the Games were set up with the IOC so the Olympic events will go ahead despite the drought.
"One concern is that normally London empties in August but this year we will have completely the opposite and increased demand although that is built into the plan and that's one of the reasons they are bringing the hosepipe bans in now.
"We won't get to the point this year that we have to have stand pipes.
"We have a ground water drought and it doesn't really matter if it rains all summer, in terms of it getting worse.
"Levels are already low and rainfall between April and October doesn't make much contribution to this."