Royal Mail launches dog postal attacks inquiry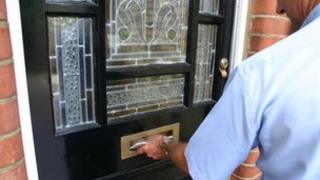 The Royal Mail has launched an inquiry into the problem of dogs attacking its postal workers.
Since 2006, more than 24,000 staff have been attacked while on deliveries, with around 4,000 attacks reported annually.
Royal Mail chairman Donald Brydon said the inquiry - led by former high court judge Sir Gordon Langley - will seek recommendations to reduce the attacks.
The RSPCA said any action should focus on prevention and tackling irresponsible dog ownership.
The Communication Workers Union (CWU) has called on the government to implement stronger legislation on the matter.
The Royal Mail has spent more than £100,000 on campaigns and equipment hoping to reduce the risk of injury.
On Wednesday it revealed that nearly 400 postal worker took time off sick last year because they had been attacked by dogs.
The company said 4,100 working days were lost, costing it £400,000.
It said every year there are between 3,500-4,000 attacks on its employees, with many resulting in severe injuries and considerable trauma for those targeted.
Mr Brydon said: "It is an offence to decency that good people should suffer these attacks when carrying out their daily jobs and serving the public."
The CWU, which is behind a long-running campaign called Bite Back, said it welcomed the inquiry.
'Urgent action needed'
The union said Prime Minister David Cameron had assured members nearly two years ago that he supported its campaign for tougher legislation but there had been no changes made in that time.
CWU national safety officer Dave Joyce said overwhelming change was required urgently.
Devon postwoman Patricia Prew said she had to take six weeks off work after she was attacked by a golden retriever in Budleigh Salterton.
"It just grabbed hold of me and pulled me down and then it bit me so deeply that it took a chunk of my muscle from that part of my arm," she said.
Claire Robinson from animal charity the RSPCA said: "This is a welcome step in the ongoing attempts to find a solution to problems associated with irresponsible dog ownership and dangerous dogs.
"The RSPCA strongly believes any new measures should focus on preventing dog attacks and bites from happening at all, rather than simply respond to them after they have happened. Hopefully this will be reflected in the inquiry."