Archived papers reveal Thatcher secrets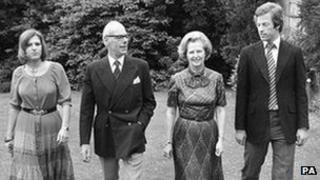 A newly-released letter to a girl who wrote to Margaret Thatcher about her parents' divorce has revealed a soft side to the Iron Lady.
The reply - which is typed and added to by hand - tells the unnamed girl how sorry the prime minister is "to hear how upset you and your brother are".
She goes on to say she has had a "very happy time with her family, and would like everybody else to be happy".
Mrs Thatcher's personal papers from 1981 have been released by her archive.
Many of the documents have a persistent theme - the struggle to manage Mrs Thatcher's time, says Chris Collins, of the Margaret Thatcher Foundation.
"The Iron Lady had a chronic inability to say 'no' to minor engagements, often arising from promises or half-promises given to friends or acquaintances at official dinners and the like," he said.
Personal correspondence created the same problems, he continued.
Mrs Thatcher received between 2,000 and 3,000 letters a week and she answered "a surprisingly large proportion herself", by dictating text and often adding handwritten postscripts.
In replying to the girl, the then prime minister's advice was nothing if not honest.
"Whatever I say or do won't really help unless you and your mother and father agree.
"There may be ways in which lawyers can help but only your mother and father can decide whether to talk to a lawyer or a Legal Aid Centre."
In her own writing, Mrs Thatcher adds: "Perhaps you would tell them you have written to me, and show them this letter. I should so much like to know what happens.
"My own children had a happy time and I should like you to have the same."
She ends the letter with an offer of a tour of Parliament and says "I could speak to you myself".