Prince Harry in Brazil: I can't find love, says royal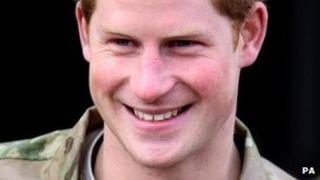 Prince Harry has admitted he sometimes wishes he was "normal" and suggested his royal role can put women off.
The prince spoke at the end of his 10-day tour to the Caribbean and Brazil, which included duties as part of the Queen's Diamond Jubilee celebrations.
In an interview with US broadcaster CBS News, Harry was asked if royalty lived up to the fairytale.
He replied: "No, not at all. As any girl would ever tell you. It's sort of, 'Oh my God, he's a prince'.
"But no. The job that it entails - I mean look at me, I'm 27 years old, and not so much searching for someone to fulfil the role, but obviously, you know, finding someone that would be willing to take it on."
The prince also spoke about his responsibilities as a royal, referring to the work he can do for good causes.
He said: "There's a lot of times that both myself and my brother wish, obviously, that we were just completely normal.
"We've been born into this position and therefore we'll do what we need to do to people and to kids that need it. It really is that simple for us."
Harry was asked about how the Queen's jubilee would be marked as a family.
"When I get back, I'm sure ideas will start flowing," he said.
"Us, as a group of grandchildren, will hopefully be able to have a dinner and do something fun with her, maybe take her out on the town, I don't know."
Earlier this week, Harry announced plans to expand his Sentebale charity from helping disadvantaged children the southern African country of Lesotho to carrying out projects worldwide.
The prince visited the Commonwealth nations of Belize, Jamaica and the Bahamas on the Diamond Jubilee tour, followed by a trip to Brazil, during which he promoted a British government campaign to encourage more tourists to visit the UK.