Gay marriage: 'Let us be first-class citizens'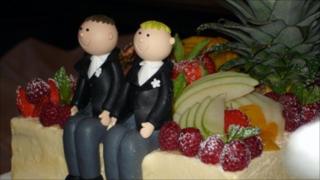 Government plans for gay marriage have ignited a heated debate that few could ignore.
They have been denounced by one Catholic church leader as "grotesque" and "completely nuts" by a Conservative MP. Even the Pope has warned of "powerful political and cultural currents seeking to alter the legal definition of marriage".
Ministers have hit back, saying the Church does not "own" marriage and gay activists argue it is about the freedom of a small group to be treated like everyone else.
So, as the government launches a consultation on marriage laws in England and Wales, what do some of those who would be affected by any changes really think?
Nick Lansley, London - in civil partnership since 2006
Nick Lansley and his partner Bernard O'Reilly have been together for 20 years.
Six years ago, they invited 30 of their closest friends and family to Barnet Registry Office in north London to witness them enter into a civil partnership.
If gay marriage had been legal at the time, there would have been no question that they would have opted for that - not in a church but in the very same registry office.
To Nick, civil partnership is not the same as marriage.
On a trivial level, if his partner were made a lord, he says he would never be able to carry the corresponding title. But more profoundly, beyond the UK's shores, Bernard is not considered his next of kin.
"It's people saying we are not quite good enough. We are nice people but not quite first-class citizens."
Nick, 47, an IT manager, is delighted with the government's plans for gay marriage and believes it is time the UK joined the debate that is already going on in the US, Spain, Argentina and Brazil.
However, he has found the language used by some to be cruel - even the very name of opposition group, the Coalition For Marriage is subtly implying gay people want to redefine marriage, he says.
"We want the same. If gay couples are allowed to marry, straight couples aren't going to wake up one morning and something has been taken away from marriage.
"We value marriage - that's why we are prepared to fight for it."
If the law is changed, Nick is expecting civil partnerships to be scrapped and those who are in one to effectively get "an upgrade".
But he is torn whether to go through another ceremony in order to marry or wait for the "upgrade" in the post.
Matias Wibowo, London - entering into civil partnership this summer
Matias Wibowo is four months away from his civil partnership to partner, John Falcone.
As devout Catholics, they are hoping to follow their summer ceremony at Islington Town Hall in north London with a trip to New York next year to receive the sacrament of marriage from a priest involved with the local gay Catholic community.
"It will mean getting the gift from God and our community but, for me, it is also about practising social justice."
Matias, 36, a climate change analyst, is originally from Indonesia, and says coming from a developing country has shown him how homophobia can spread.
"If gay people are treated as second-class citizens, it becomes a way to justify the abuse and treatment of the gay community.
"The word 'marriage' is important to me because it would help in fighting for equality.
"I would like to start talking in the same language as heterosexual couples. It will help dialogue."
He believes the Catholic view of marriage - defined as a union between man and woman - is misleading as that has not always been the case.
However, he says the components of traditional marriage - love, family and raising children - are "exactly the reasons why I would like to get married".
"I do want to raise children, to profess my love and be supported by the community."
Outspoken remarks from those within his own church have been hard for him to hear, but are nothing new, he says.
"Since coming out as a gay catholic, I have felt I was living in an oppressive community."
He says, though, he feels compassion for the church leaders who are filled with fear because they are constrained by the boundaries of their argument and have not had the opportunity to talk to gay Catholics on a deep level.
Eve Morris, Edinburgh - living with partner for six years
Eve Morris lives in Edinburgh with her partner of six years and believes the introduction of same-sex marriages is long overdue.
"Civil partnerships are an interim phase, on the way to marriage," she says. They lack the same social status and even fall down on the language.
"You can't say 'I got civil-partnered last year,' in the way you can say, 'I got married'.
"And what is a woman in a civil partnership meant to say when asked, 'Is it Miss or Mrs?'"
As a bisexual, she all too clearly sees the contradiction that should she choose to marry a man, she has one legal option, or should that be a woman, she has another option.
"I want the same choices to be available to me regardless of the gender of my partner," she says.
However, while Eve, 34, an atheist with a Jewish background, believes marriage should be as good and as fair as it can be and free from religious groups' meddling, she finds the institution deeply problematic.
She does not believe a relationship has to be permanent to be of any value, nor should people be forced into staying in a relationship that no longer makes them happy.
"I hope that one day our society will evolve beyond marriage, and I think that we are slowly getting there."
In the meantime, she and her male partner commit to each other by "living together, loving each other and agreeing to keep working on our relationship to make it a vibrant, happy thing.
"It's not what you call the relationship that matters at this personal level, it's how you live it."