London 2012: Evening of entertainment at Olympic Stadium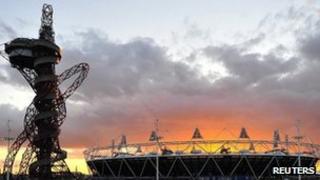 An evening of public entertainment featuring sports stars and celebrities is to be held at the Olympic Stadium on 5 May.
One member of the audience of 40,000 will be brought into the middle of the stadium to officially open the venue.
The show, which is during the British Universities and Colleges Sports championships, will include a series of stunts, games, challenges and prizes.
Tickets, which will be priced at £20 and £10, go on sale on Thursday.
They will be available from Ticketmaster, the company which runs the London 2012 ticketing site.
Members of the public with tickets for 2012 Hours to Go: An Evening of Athletics and Entertainment can arrive at the stadium from 1900 BST and will watch the final hour of the championships' evening session.
London 2012 chairman Sebastian Coe said: "This is a great opportunity for people to experience the venue that will take centre stage this summer.
"As well as a great evening of entertainment, this will be an invaluable test and another warm-up event for the Olympic Stadium."
Information on the host, celebrities, schedule and prizes for the evening will be released in the coming weeks.
The British Universities and Colleges Sports Championships runs from 4 to 7 May and is the athletics test event for the stadium.
There are several other events which will give the public access to the stadium before the Games kick off on 27 July.
On 31 March, 5,000 runners from around the UK,including Princess Beatrice,will take part in thefive-mile National Lottery run, which finishes in the Olympic Stadium.
The following day 1,000 members of the public will be able to run 100m in the stadium in front of a 20,000-strong crowd for theGold Challenge, which invites people of all ages to test themselves in Olympic and Paralympic sports and raise £20m for charity by the end of 2012.
And the finals of the2012 School Games, from 6 to 9 May, will see about 1,600 schoolchildren compete in the Olympic Stadium, Aquatics Centre, Velodrome and ExCeL Centre.