Leveson Inquiry: Dick Fedorcio tells why Neil Wallis hired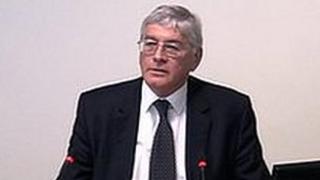 The Met Police's communications chief hired ex-News of World (NoW) deputy editor Neil Wallis as a consultant because he wanted someone he knew and trusted, the Leveson Inquiry has heard.
Dick Fedorcio said he decided to use Mr Wallis's PR firm when the ex-journalist told him of his new line of work.
When told he had to put the contract out to tender, he asked two other firms to bid but Mr Wallis was still hired.
The controversy over Mr Wallis's role prompted two top officers to resign.
Mr Wallis was arrested last July by police investigating phone hacking at the News of the World, and it quickly emerged that he had been on the payroll at Scotland Yard since leaving the newspaper.
There were then further claims that the Met's assistant commissioner, John Yates, secured a job for Mr Wallis's daughter.
Met Commissioner Sir Paul Stephenson resigned as the furore continued over Mr Wallis's links with the Met - he later told MPs he regretted the "embarrassing" contract - and Mr Yates also stepped down.
In July last year, MPs on the home affairs committee criticised Mr Fedorcio for failing to conduct proper checks on Mr Wallis, whose PR company, Chamy Media, was used by the Met from October 2009 until September 2010.
The Independent Police Complaints Commission subsequently examined whether Mr Fedorcio's actions amounted to gross misconduct. In January, it passed a file to Scotland Yard to consider possible disciplinary action against him.
'New territory'
Mr Fedorcio told the Leveson Inquiry he had taken the decision to take on a consultant in 2009 while his deputy was on long-term sick leave.
He said the tendering period had taken five days. He invited bids from rival PR firms Bell Pottinger and Hanover but they were 50% more expensive than Chamy Media - a fact Mr Fedorcio denied he had known would be the case from the outset.
"This was new territory for me," he told the inquiry, adding: "I had no idea what the others were going to pitch."
He said he chose the three because his "thinking" was he wanted "people that I knew, people that I trusted that could do it and that they had policing experience".
"That was quite important," he added.
Until then, he said, Neil Wallis was: "Someone I probably saw two, maybe three times a year, usually at one of the dinners the commissioner would have with News of the World."
He said he had approached the then Assistant Commissioner John Yates, who carried out a review of the 2006 police investigation of the News of the World in July 2009, to say he was thinking of taking on Mr Wallis.
He wanted to know of any potential risks to the organisation if Neil Wallis was engaged by the MPS in view of the phone hacking case.
Asked by the inquiry whether he would have taken on Mr Wallis if he knew he and John Yates were such close friends, he said he might have thought the hiring "inappropriate".
Mr Yates has told the inquiry he was "good friends" with Mr Wallis - they had had dinners together and attended a football match together.
Mr Fedorcio also told the inquiry how he had allowed the News of the World's then crime editor Lucy Panton to use his computer after a meeting "as she was under pressure".
He said she was under pressure to quickly write up a story about the reception former Scotland Yard Commander Ali Dizaei had had in prison after he was jailed.
"I saw this story at the time. There was nothing in story that troubled me from a Met Police perspective," Mr Fedoricio said.
"At the time I was thinking I was helping somebody who was being put under what I thought was quite unnecessary pressure.
"From my perspective I thought I would get sight of a story would not normally see until Sunday."
He said the stand-alone computer was not connected to the Met's system.
Work experience
Mr Fedorcio also told how he arranged work experience at the Sun newspaper for his son and also for former commissioner Ian Blair's son.
His son spent a week at the son in 2004 and then another four weeks after graduating from university in 2007 - the same year Rebekah Brooks (then Wade) approached him about the loan of a retired police horse.
He also told Lord Justice Leveson that new guidelines were issued to Scotland Yard's management board in February 2008 after an "inappropriate flow of information" to the media.
"It was very disturbing and a very difficult time for the organisation," Mr Fedorcio said. "I'd never seen anything like it before it or since."
He said any one of 40 people could have been behind the leaks to the press.
Mr Fedorcio said he could only recall his department receiving one gift from media and that was a hamper in December 2003 from the News of the World in thanks for returning inquiries on Saturdays, in the hours before the paper was published.
Mr Fedorcio went on extended leave in August 2011.
The Leveson Inquiry is examining relations between the press, politicians and police, and the conduct of each - including during the initial investigation into phone hacking at the News of the World.
The Met Police announced on Tuesday that six people had been arrested by detectives working on Operation Weeting, which is investigating phone hacking allegations against journalists.
The arrests took place at addresses in London, Oxfordshire, Hampshire and Hertfordshire.
Police said five men and one woman were arrested on suspicion of conspiracy to pervert the course of justice.