Prosecution errors caused by cuts, says report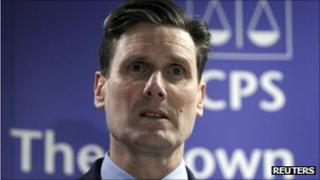 Crown Prosecution Service lawyers have been criticised in a review for being under-prepared and making errors during trials.
Her Majesty's Crown Prosecution Service Inspectorate said the CPS was using more of its own staff in court to keep the cost of external lawyers down.
But chief inspector Michael Fuller said not enough had been done to raise in-house lawyers' standards of advocacy.
The CPS said it had made "significant" savings but that quality remained high.
In his report, however, Mr Fuller wrote that the CPS needed to ensure its in-house prosecutors were not "just used to save money, as the pursuit of good quality advocacy is paramount."
Late instructions
One case was highlighted in the report in which "an otherwise competent crown advocate was let down by a silly slip in opening, necessitating the jury being discharged".
It put this down to last-minute preparation and having little time to focus on the case.
Inspectors also warned that the performance of in-house advocates in plea and case management hearings was declining due to an increase in the number of cases, late instructions and a lack of preparation time.
The report added that the crown advocate often failed to be of "any real assistance" in the sentencing process, leaving it for the defence counsel and the judge to discuss.
Further concerns raised in the report, included:
Many in-house crown advocates lacked trial experience due to the high number of defendants who entered late guilty pleas on what should be the first day of their trial
Clearly inadmissible and prejudicial evidence went unchallenged
An over-reliance on case notes meant notes were read out, making the advocacy "pedestrian"
"Inappropriate" pleas were agreed to
The inspectorate said that only two of 22 recommendations made in an initial report into the CPS three years ago had been fully acted upon.
However, the director of public prosecutions, Keir Starmer, said: "Our increased use of in-house advocates has resulted in significant savings since 2006 and at the same time the overall quality of advocacy has remained high."
Mr Starmer said his office would "rise to the challenges" set out in the report, and continue to improve the quality of in-house and external advocacy in the criminal courts.
He pointed out that the report also highlighted the CPS's commitment to quality advocacy and areas of improvement, including the introduction of an advocacy quality monitoring scheme.