London 2012: Princess Beatrice to run in Olympic Park race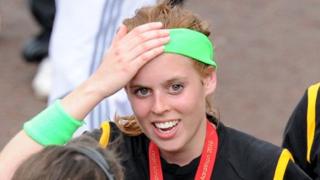 Princess Beatrice is to take part in a race in the Olympic Park which will see the public being the first to cross the Olympic Stadium finishing line.
Runners from around the UK will take part in the five mileNational Lottery runon 31 March.
The princess, who in 2010 was the first royal to complete the London Marathon, said she was excited to be taking part.
More than 40,000 people applied for the 5,000 places which were allocated through a random ballot.
Runners, including a number of former Olympic and Paralympic athletes, will set off on the route around the Olympic Park in waves before finishing inside theOlympic Stadium.
Their journey will start 300m (984ft) away from London's newest landmark, the spiralling redOrbit Tower, and pass the Athletes' Village, Velodrome, Basketball Arena and other venues.
Beatrice will officially start the event before taking part herself and then distributing finishers medals to the last runners.
"I am very excited about the opportunity to start the event and really looking forward to taking part in the run," she said.
The princess added she would be joined by a group of friends, some of whom took part alongside her in the London Marathon in which she waspart of a "human caterpillar".
Dianne Thompson, Chief Executive of The National Lottery operator, Camelot Group, said: "It seems particularly fitting given that not only is this the year in which we are celebrating Her Majesty The Queen's Diamond Jubilee, but also the run will take place in what will ultimately become the Queen Elizabeth Park."
The announcement comes after Prince Harry completed a Jubilee tour of Belize, the Bahamas, Jamaica and Brazil which saw himrace with Usain Boltand visit Rio, host city of the next summer Olympic Games in 2016.