Leveson Inquiry: No culture of police leaks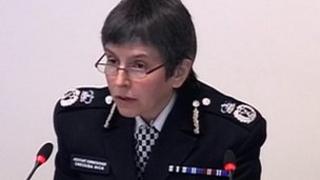 An Assistant Commissioner of the Metropolitan Police has told the Leveson Inquiry there was no "culture" of leaks from the police to the media.
But Cressida Dick conceded that some officers have been prepared to take money for information.
Ms Dick, now the counter-terrorism chief, insisted that this had been carried out by isolated individuals.
She also defended her predecessor, John Yates, for ruling out reopening the phone-hacking investigation in 2009.
On the issue of leaks she told the inquiry into press ethics: "I do acknowledge that there has been - and no doubt is - some of this going on. I don't think we'll be unique in that. We have to try to reduce it to a minimum and hopefully get rid of it.
"If we think of other forms of corruption, I genuinely believe that the police service that I am now in is less corrupt then it has ever been."
Mr Yates, who resigned in July amid pressure over alleged links to a former executive at the now defunct NoW, has expressed "extreme regret" over the decision not to reopen the investigation into phone hacking.
'Disastrous'
"I know Mr Yates well, I find it impossible to countenance that he would not have done what he saw as the right thing," Ms Dick said.
"What is clear is he did not get a good understanding of what had gone before. It is not unusual for further work to be done after an announcement has been made."
In response, Lord Leveson said: "The outcome of the decision was not only poor, it was disastrous."
Later, the inquiry heard that former home secretary Alan Johnson had "no appetite" for inspectors to review the hacking investigation in 2009.
Sir Denis O'Connor, the chief inspector of constabulary, said he advised Home Office officials there should be an independent review after a Guardian story alleged hacking was far more widespread than previously believed.
But he said despite discussions between ministers and Mr Johnson about getting Her Majesty's Inspectorate of Constabulary (HMIC) involved, nothing became of it.
"A discussion ensued with ministers and the home secretary at the time and there was no appetite for the HMIC being involved so it really never got off the ground, sadly," he told the inquiry.
Earlier, Ms Dick also described how she had to "put down a marker" to London mayor Boris Johnson's deputy when he kept questioning whether the police were putting too many resources into the phone-hacking investigation.
After Kit Malthouse raised the issue for a third time, she said she reminded him that it was for her to decide, not him, because British police operated independently.
Former Met commissioner Sir Paul Stephenson told the inquiry last week that Mr Malthouse complained about the level of resources being driven by political and media "hysteria".
Ms Dick also told the inquiry how journalists had waited outside her house after Brazilian Jean Charles de Menezes was shot dead by police when he was mistaken for a suicide bomber the day after failed attacks on London in July 2005.
"I have no complaint about scrutiny received, I expected it and was not surprised by any of it. Senior public officials have to expect a great deal of attention," she said.