'Locked-in syndrome' patient awaits ruling on death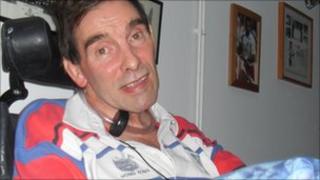 A man whose body is so paralysed that he wants a doctor to be able to kill him will find out later at the High Court if his case has been thrown out.
Tony Nicklinson, 58, from Melksham, Wiltshire, is seeking a ruling on whether a doctor who ended his life would have a defence against murder.
Mr Nicklinson suffered a stroke in 2005 and has "locked-in syndrome".
The Ministry of Justice wants the case struck out, arguing only Parliament can change the law on murder.
Locked-in syndrome involves people, like Mr Nicklinson, whose bodies are paralysed but their minds are intact.
Mr Nicklinson, who communicates through the use of an electronic board or special computer, says his life is "dull, miserable, demeaning, undignified and intolerable".
Medical advances
Mr Nicklinson's wife, Jane, said: "He just wants to know that, when the time comes, he has a way out. If you knew the kind of person that he was before, life like this is unbearable for him."
She said she did not know when her husband might actually want to die. "I suppose just when he can't take it any more.
"He says life is just about bearable at the moment, but that he realises that as he gets older it's going to get worse."
Mrs Nicklinson also said the law had not kept pace with medical advances.
"Twenty years ago Tony would have died, but people are being kept alive with such terrible conditions," she said.
"He says now that if he'd known what life would be like for him now he would have just laid down and died, quite honestly. He wouldn't have called for help.
"Times haven't moved on. Medical practices have become so much better. The law hasn't progressed with that."
The case was heard in the High Court last month and judgement was reserved by Mr Justice Charles.
Legal arguments
Mr Nicklinson, who is married with two grown-up daughters, launched a legal action seeking court declarations that a doctor could intervene to end his "indignity" and have a "common law defence of necessity" against any murder charge.
But David Perry QC, representing the Ministry of Justice, told the High Court that Mr Nicklinson "is saying the court should positively authorise and permit as lawful the deliberate taking of his life".
He added: "That is not, and cannot be, the law of England and Wales unless Parliament were to say otherwise."
BBC legal correspondent Clive Coleman says the case goes beyond assisted suicide as Mr Nicklinson's paralysis is so severe it would prevent him from receiving assistance to kill himself and he would have to be killed - and that would amount to murder.
He says Mr Nicklinson is seeking a court declaration based on his right to respect for private life under Article 8 of the Human Rights Convention - in effect saying that in his circumstances, his right to life includes the right to end his life in a humane manner of his choosing.
He also says Mr Nicklinson will probably appeal should his court bid fail.
"This is a case which is likely to end up at the Supreme Court," our correspondent added. "It's a very clear example of a point of law which has enormous general public importance."
The case is thought to be the first of its kind and represents the most ambitious effort yet mounted to free up laws on the right to die, our correspondent adds.
Baroness Finlay, professor of palliative medicine at Cardiff University, does not believe the law needs to be altered.
"I would dispute that the only way to relieve somebody's suffering is to kill them.
"And I would suggest that there are many, many ways that can be negotiated with an individual patient to try to meet their needs without imposing on them anything that would be life-prolonging, if they do not want something that's life prolonging and our law states that clearly."