William Hague facing legal action over drone strikes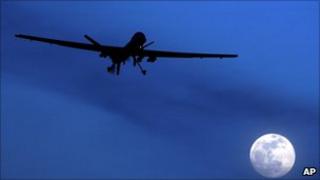 Human rights lawyers are to sue Foreign Secretary William Hague over the alleged use of intelligence in assisting US drone attacks in Pakistan.
The case is being raised at the High Court in London on behalf of Noor Khan, whose father was killed in a US strike.
Lawyers from Leigh Day and Co say civilian intelligence officerswho give information to the US may be liable as "secondary parties to murder".
The Foreign Office said it did not comment on ongoing legal proceedings.
The lawyers, which include some from the international charity Reprieve, want to establish what official UK policy or guidance is with regard to assisting the US in such cases.
Leigh Day and Co says Mr Khan's father Malik Daud was part of a council of elders holding a meeting in the tribal areas of northwest Pakistan, when a drone missile hit the group.
The firm said it had "credible, unchallenged" evidence Mr Hague oversaw a policy of passing British intelligence to US forces planning attacks against militants.
'Breach of sovereignty'
It will also point out that Pakistan is not involved in an international conflict.
Malik Daud is believed to be among 40 killed in the strike in North Waziristan, but the figures cannot be independently verified as reporters are prevented by the authorities from travelling to the region.
The area is known as a sanctuary in Pakistan for the Taliban and al-Qaeda-linked militants.
Attacks by pilotless US aircraft have become a key weapon in the US's fight against terrorism in Pakistan.
But many Pakistanis see them as a breach of their sovereignty and the cause of frequent civilian deaths.