Crufts: Lhasa Apso Elizabeth wins Best in Show title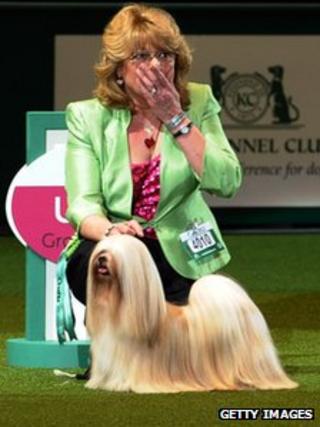 A seven-year-old Lhasa Apso named Elizabeth has won the Best in Show at the Crufts dog show at Birmingham's National Exhibition Centre.
The dog, owned by Margaret Anderson, from Coventry, Warwickshire, headed off competition from 21,000 other canines to take home the prize.
Buster, a spaniel, who undertook tours of Afghanistan, Iraq and Bosnia, won the title of "man's best friend".
He saved lives by sniffing out suicide bombers wearing explosive vests.
Elizabeth was given the first place rosette after beating the six other dogs left in the final stage of the four-day competition.
Lhasa Apsos originate in Tibet and were used by Buddhist monks to alert them to any intruders.
Ms Anderson said she was in shock.
"I'm, sure somebody's going to pinch me in a minute and I'll wake up and it'll all be a dream. It hasn't sunk at all. I'll go home and probably burst out crying."
She said Elizabeth was a "very easy going dog" who loved the attention.
"She loves showing, she's always loved her show career, the bigger the applause the more she loves it," she said.
However she added that she may now retire Elizabeth from shows.
All seven dogs had earlier won their individual best of breed and then best in group categories.
The other dogs in the final included Pomeranian Dreamer, Irish Water Spaniel Merlin, Old English Sheepdog Jimmy, Norwich Terrier Paris and Borzoi Luke.
The finalists were assessed by a Kennel Club-approved judge who examined them on their laps of honour and marked their overall health, condition, coat, character, temperament, movement, and the standards required by the organisation for their particular breed.
The reserve title was given to three-year-old Newfoundland Brutus and his owner Sonia Krockovci.
Earlier, Buster the spaniel was rewarded with the Friends for Life first place prize for his bravery during his five tours of duty.
As well as sniffing out suicide bombers, he assisted on foot patrols in Afghanistan's poppy fields, helped hunt Taliban insurgents and sought out booby trap bombs.
Buster, who is now set to retire at the home of RAF police sergeant Michael Barrow, was awarded the prize following a public vote.
He beat competition from service dogs, police dogs, assistance dogs, companion dogs and 2012 Games dogs.