Call for campaign to raise awareness of suicide in young men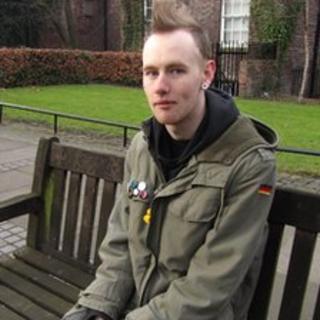 A charity is urging the government to conduct a national campaign to raise awareness of suicide in men - the biggest killer of men under the age of 35 in the UK.
Danni Mather, 23, sitting on a bench in Liverpool city centre, brushes the back of his hand across his cheek and wipes away tears as he describes how he suffered depression and considered suicide on several occasions.
He says: "I just felt empty - that's the only way you can describe it.
"It's just complete emptiness. You can't smile. You can be told the greatest joke in the world, the greatest news in the world, and you'll just feel like its nothing. You just exist."
The ebullient musician, who plays a range of instruments including bass and violin, says he did not have much to be depressed about - but was unable to push dark thoughts away.
"Every time something goes wrong it becomes the first thing that pops into your head: Just do it.
"You're waiting for a train and the first thing that pops into your head as you're waiting for it is get in front of it, because if that hits you you're not waking up," he says.
Luckily for Danni, he received professional help and overcame his depression. He says talking about how he was feeling was key to his survival.
'Such a male issue'
More than 3,000 male deaths in England and Wales in 2010 were ruled as suicides or undetermined fatalities, latest figures from the Office of National Statistics show.
It defines "undetermined" as cases where there is insufficient evidence to prove that the person deliberately took their life, but the assumption is that they did.
Of those men, 868 were aged between 15 and 35, three times more than the number of women in the same demographic.
Jane Powell, director of the Campaign Against Living Miserably (Calm) - a suicide prevention charity in the UK which concentrates on men - says the situation is perilous.
"Nine out of 10 people aren't aware that suicide is the biggest killer of young men under the age of 35. That disempowers both family and parents plus the young men themselves.
"I think awareness of the dangers of salt is higher amongst parents then suicide, and that can't be good," she says.
She wants the Department of Health to set up a national campaign to raise awareness at a time when young people are struggling in an arduous economic climate - something she is worried could lead to a spike in suicides.
"For men, they are defined in many people's eyes by what they do - and if they haven't got a job, then they're no-one. And I think that is part of why suicide is such a male issue," she says.
'Debilitating physical illness'
But Louis Appleby, the former director of mental health at the Department of Health who has implemented a number of reforms to reduce suicide rates in England, says public awareness alone is not the key.
"I am much more impressed with what professionals can do, what healthcare services can do, than with public awareness.
"The public is often turned off by suicide and mental health - that's what all the evidence shows. Its about who is receptive about mental health," he says.
The number of male suicides in the UK has reduced over the last 10 years - but the figures are still substantially higher than the number of those killed in road accidents or through knife and gun crime.
Mr Appleby is adamant the government is employing the correct strategy.
"It took 25 years for the suicide rate in young men to double.
"It took 12 years for it to fall back again to the same level, so something very beneficial has happened in the last 12 years - and part of that has been the awareness of the front-line agencies that they are dealing with a very troubled, potentially high-risk, group of people," he says.
The novelist and comedian David Baddiel has spoken openly about his experiences with depression. He says he embraced feeling miserable as a teenager, thinking it was "cool", but in his 30s, a severe bout of depression changed his mind.
"What overcomes you is more like a type of extremely debilitating physical illness than a feeling of sadness or a kind of self-conscious acquirement of trying to be depressed," he says.
"It all blows it away into a desire not to want to move, really."
He rejects the idea that some men resort to suicide because they cannot convey their emotions.
"I think a lot of people, when they look at the statistics of suicide in young men, they think its because men can't talk about their feelings.
"That myth that a lot of men collude with, and women, needs to be broken down and a space needs to opened up so that men can do it," he says.