Nigeria rescue bid: How pushed for time was Britain?
By Gordon Corera
Security correspondent, BBC News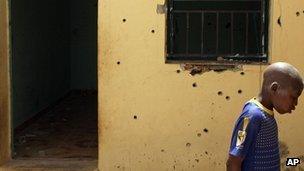 When the Italian goverment complained it was not kept in the loop over the failed attempt to free Briton Chris McManus and Italian Franco Lamolinara from their abductors in Nigeria, the UK said it was because there was not time.
But why was there such urgency behind the operation and why might the UK government have failed to keep its Italian counterparts up-to-date?
This was an operation launched in a hurry. After months of intensive intelligence work had led to no strong evidence of the two men's location, new information emerged thanks to the Nigerians. They detained a suspect who knew where the men were.
But it also became clear that the kidnappers might well have known that a rescue attempt was being planned - perhaps because of the arrest of one of their colleagues who knew their location or because someone saw signs of activity in Sokoto.
Whatever the case, the fear grew among British officials that this could lead to the hostages being moved or killed.
They were also aware that they might never get another opportunity as good as this one to try a rescue.
As a result, they decided the best option was to move as quickly as possible with the final go-ahead given by the prime minister after an early morning meeting of top officials.
The urgency is evident from the fact that the raid took place in daylight. It was deemed too risky to wait even 12 hours for dark. Nigerian forces provided a cordon whilst British special forces went in.
They engaged and killed one gunman but by the time they found the hostages they had already been killed. A further gun-battle with fleeing militants ensued.
There had been concern for some time that the men's lives were in danger. Hostage videos from last year seemed to include credible threats to their lives.
It was also learnt that the group holding them were a splinter cell from Boko Haram which had direct links to senior figures in al-Qaeda in the Islamic Maghreb (AQIM).
AQIM has a track record of kidnapping westerners both for ransom to fund their activities and for political purposes. The cell involved in this kidnapping appears to have followed the same strategy although the exact nature of their demands remains unclear.
The concerns over the general threat and the fear that planning for a rescue might have been compromised explain the speedy decision to launch a raid - and, British officials argue, also the failure to tell the Italians until it was already under way.
They also say that the Italians had been consulted over a long period about the search and say that it had always been clear to them that a rescue mission was a likely option.
British officials deny that the Italians were not informed out of any concern that they might try to prevent a rescue mission.
Both the Nigerians and the British have tended though to take a more aggressive approach in launching rescue missions than some other countries, including Italy.
If this mission had ended in success, there would be few questions about when exactly Italy was told. But it did not. And some Italians are clearly unhappy at what happened and the role of the British government.
Related Internet Links
The BBC is not responsible for the content of external sites.