BSkyB faces broader 'fit and proper' inquiry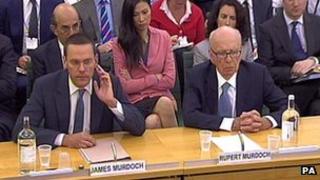 An inquiry into whether BSkyB is a "fit and proper" owner of a broadcasting licence has been stepped up by media regulator Ofcom, it has emerged.
The Financial Times has revealed a team was set up in January to scrutinise evidence from the Leveson inquiry, MPs' committees and police investigations.
It means the UK media interests of Rupert Murdoch and his son James have come under further scrutiny.
Their company News Corporation is the biggest BSkyB stakeholder, with 39%.
The news comes amid controversy over phone hacking by News International staff. Allegations of corrupt payments to public officials have also surfaced.
Ofcom began preliminary inquiries into whether BSkyB was a "fit and proper" owner of a broadcasting licence last summer after phone hacking revelations first came to light.
James Murdoch stepped down as chairman of News International last week but still chairs BSkyB.
A Freedom of Information request by the FT revealed that in January the media regulator established a dedicated team to scrutinise material emerging from the Leveson Inquiry into media conduct, parliamentary select committees, and the police investigations.
Ofcom said new evidence was still emerging, which it was continuing to assess.
BBC media correspondent Torin Douglas said the watchdog was expected to take particular note of a Commons Culture Media and Sport Committee report on phone hacking, due out in the next few weeks.