Afghanistan deaths: Six dead UK soldiers named by MoD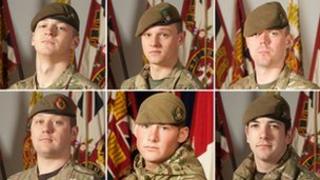 Six British soldiers killed in southern Afghanistan by a Taliban bomb have been named by the Ministry of Defence.
Cpl Jake Hartley, 20, Pte Anthony Frampton, 20, and Pte Christopher Kershaw, 19, died in the blast.
Pte Daniel Wade, 20, Pte Daniel Wilford, 21, and Sgt Nigel Coupe, 33, were also killed when their Warrior armoured vehicle was hit on Tuesday.
Yorkshire Regiment commanding officer, Lt Col Zac Stenning, paid tribute to his "incredibly brave men".
Their deaths take the total of British military personnel killed in Afghanistan since 2001 to 404.
Five of the men were from 3rd Battalion The Yorkshire Regiment.
Pte Wilford, Pte Frampton and Cpl Hartley came from Huddersfield, West Yorkshire and Pte Kershaw came from Bradford. Pte Wade was from Warrington in Cheshire.
Sgt Coupe, from St Annes in Lancashire, was on secondment to the regiment from 1st Battalion The Duke of Lancaster's Regiment.
The deaths represent the biggest single loss of British life in Afghanistan since September 2006, when an RAF Nimrod crashed, killing 14 people.
All six soldiers were based at Battlesbury Barracks in Warminster, Wiltshire. The soldiers from the Yorkshire Regiment had left for Afghanistan on 14 February.
Flowers have been laid at the entrance to the base. Cpl Hartley would have turned 21 on Saturday.
In a statement at the barracks, Col Stenning said: "This week, six of our brothers have fallen. It has been a sad day but, as their brothers-in-arms, we remain committed in our duty to continue with our mission. They would want nothing less.
"Our loss is very great today. But this is, of course, nothing when compared to the deep loss felt by their families and friends.
"Our thoughts and prayers are firmly with them today. I wish to thank the many well-wishers who have shown their support to us at this very difficult time."
Senior army and intelligence officials in Helmand province told the BBC that the soldiers had been killed by a powerful, Taliban bomb that had been planted recently.
The six soldiers had been on a security patrol in a Warrior armoured fighting vehicle when it was caught in an explosion in Kandahar province.
The Taliban told the BBC that they had carried out the attack and were "very proud of it".
Most of the 9,500 UK troops in Afghanistan are expected to be withdrawn by the end of 2014, when 13 years of combat operations in the country are set to cease.
Defence Secretary Philip Hammond said morale among British troops serving in Afghanistan was "extremely high" despite the loss of the soldiers.
He told ITV1's Daybreak programme: "The people on the ground are acutely conscious of the risks that they are running but they are also incredibly proud of the job that they are doing - and rightly so - and hugely satisfied by the level of public support that they have back home.
"Morale on the ground in Afghanistan is extremely high, and it's high because the servicemen and women there know that they are doing a job and and are doing it well and that is their professional commitment to get that job done."
Head of the armed forces, General Sir David Richards, has said the UK will "hold its nerve" in Afghanistan.
Prime Minister David Cameron said on Wednesday that the deaths marked a "desperately sad day for our country".