Abu Qatada case: Jordan talks constructive - Theresa May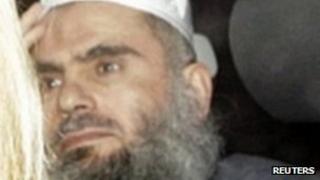 Talks in Jordan over the deportation of Abu Qatada were "constructive", Home Secretary Theresa May has said.
Returning to the UK after a three-day trip to meet the king, she said things were "moving in a positive direction".
A UK judge ended Abu Qatada's six-year detention last month after the European Court of Human Rights blocked his deportation to Jordan.
The 51-year-old, who faces terror charges in Jordan, is considered a threat to the UK's national security.
Mrs May had sought assurances from the Jordanian king and ministers that no evidence obtained via torture would be used against the cleric.
She said: "I have just returned from Jordan after constructive talks with the King and several ministers.
"Those talks will now continue at an official level and build on the progress I made this week. The Jordanian government has been extremely helpful and will continue to be so.
"As everyone knows this is a complicated case that has lasted for a decade, but things are moving in a positive direction."
The cleric was released from Long Lartin high-security jail in Worcestershire on strict bail conditions, including a 22-hour curfew allowing him to leave home for a maximum of an hour, twice a day.
He has never been charged with any offence in the UK but ministers have described him as "extremely dangerous".
UK authorities have previously said he had given advice to those who aimed "to engage in terrorist attacks, including suicide bombings".