Bitter reminder that Afghanistan fighting is not over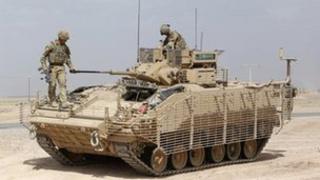 Despite continued fighting in some areas of Helmand, and the regular discovery of improvised explosive devices (IEDs), the past months had seen the British death toll in Afghanistan slow, with seven deaths in November, four in December, three in January and one death in February.
However, today's news is a bitter reminder that for the men and women on the ground in Afghanistan, the fighting and the dying are far from over, while British troops are injured in Helmand every week.
This is the worst single loss of life in one incident due to enemy action for British troops in Afghanistan since the start of the war in 2001.
The last time a similar number of UK casualties was caused by IEDs was in the summer of 2009, when five British soldiers from 2 Rifles died in an IED blast on 11 July in Sangin, with another three dead in separate blasts within the same 24-hour period.
In the same year, five were shot dead by a rogue Afghan policeman at Checkpoint Blue 25 in the village of Shin Kalay that November.
Political focus
The IED remains the deadliest weapon in the Taliban's arsenal. It is effective on a psychological level, as well as causing deaths and severe injury, and is relatively cheap and simple to manufacture.
The level of suspected casualties suggests a large amount of explosives were used.
It is, though, possible the deaths may have been caused by a legacy landmine, perhaps left over from the decades of conflict in the country. However, the Taliban do also use such mines while making new IEDs. The cause of the explosion has yet to be confirmed.
But Warrior armoured fighting vehicles - the only British tracked infantry vehicle used in Afghanistan - are among the most robust, and many have been newly upgraded with extra armour.
The most recent fatalities take the British death toll to 404. The UK is unlikely to change its Afghan strategy as a result of this latest incident, although it may add to public pressure for an early departure from the fight in Afghanistan.
The main political focus in London, Washington and Paris is already on how Nato troops can hand over security or "transition" to Afghan forces as rapidly as possible, so that by the end of 2014 the combat mission for British troops will finish.