Attorney general examines Sue Akers' Leveson evidence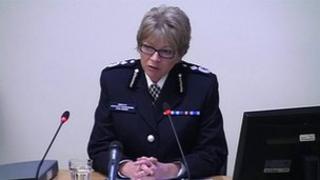 The attorney general is examining whether the Metropolitan Police officer leading the phone-hacking inquiry has prejudiced any trials resulting from the investigation.
The move by Dominic Grieve comes after Deputy Assistant Commissioner Sue Akers told the Leveson inquiry the Sun had a "culture of illegal payments".
His spokeswoman said the attorney general "will consider the concerns".
Eleven Sun journalists have been arrested over bribery allegations.
Last month, DAC Akers outlined details of payments of tens of thousands of pounds made by journalists to public officials while giving evidence to the inquiry.
The attorney general's spokeswoman said: "Evidence given during the Leveson Inquiry has been drawn to the attention of the attorney-general's office. The attorney-general will consider the concerns raised."
'Unprecedented'
BBC legal affairs correspondent Clive Coleman said it was a "pretty unprecedented situation".
He said: "What we've got here is a senior police officer who's been asked to give updates to a public inquiry headed by a very senior judge, with a legal team advising him and legal team advising her.
"So it would be highly unusual if something that she said has the effect of prejudicing a fair trial.
"Let's remember that there have been arrests but there have been no charges. We are some considerable way away from a trial and there is the 'fade factor' involved in anything that's said."