Ryanair advert campaign on Thomas Cook banned by ASA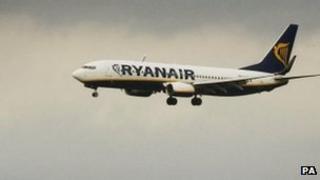 Ryanair has been reprimanded for a "denigratory" advertising campaign that falsely implied rival Thomas Cook was likely to go into administration.
The Advertising Standards Authority (ASA) has banned the advertisements, headed "Bye Bye Thomas Cook".
The November newspaper campaign claimed the tour operator was in "dire straits", with debts of nearly £1bn.
The ASA said it had had 15 complaints but that Ryanair had argued the adverts reflected "public commentary".
"They believed it was factually accurate that the financial difficulties of Thomas Cook had given rise to considerable public commentary about the possibility of them going into administration and whether it was risky to book with them," according to the ASA.
Ryanair insisted that it had not planned to mock its competitor, the ASA said.
Each of the advertisements had contained extracts from news stories about the tour operator's financial difficulties, contrasted with positive comments about Ryanair's own financial security.
One stated: "Book Ryanair. Over 3 billion in cash reserves". Another read: "Ryanair - guaranteed to keep flying this Christmas."
Some complainants argued that one of the advertisements had implied that Thomas Cook would have ceased trading by December 25.
The watchdog conceded the advertisements were unlikely to cause "serious or widespread offence" or "fear or distress", but ruled that they could not run again in their current form.
"We considered that the header Bye Bye Thomas Cook pictured alongside the newspaper headlines would lead consumers to believe that Thomas Cook was likely to go into administration and that it was risky to book with them," it said.
"As a result we concluded that the ads were misleading and denigratory."