Is Brazil's economic growth enough to draw emigrants home?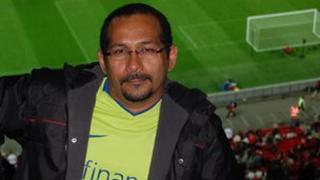 As Brazil's economy becomes the world's sixth-largest economy, overtaking the UK, what about the Brazilians working abroad? Is it time for them to return home?
For years thousands of Brazilians came to European capitals like London in search of a better life.
Europe seemed to offer the migrants real potential. With an exchange rate working in their favour and often holding down more than one job, they could build up savings that might one day allow them to return home to a more prosperous life.
But now Brazil itself is booming and the headlines are promising. So is it a good time to return to South America's largest country?
The question is more complex than it seems. Some Brazilians have left for home only to return to Europe, saying that they were disappointed by the Brazilian boom and that the quality of life remains better here.
While they are in Europe, Brazilians are moving around - leaving countries that have been worst affected by the economic crisis for cities such as London, where they say there is still the promise of a better financial future.
Decio Fonseca, from Brazil's north-eastern state of Bahia, arrived in England three years ago after living in Portugal for eight years. "When the situation got worse in Portugal, I thought about going back to Brazil, but then I decided to take a chance and learn English in London," he said.
Mr Fonseca has a Portuguese passport but feels trapped in low-paid jobs often done by illegal immigrants. "The problem is that I don't have many qualifications or a university degree, so I'm still jumping from one job to another," he said.
After working at a restaurant, he is now a cleaner. But his dream is to be a photographer.
"Brazilian migrants work mainly in building, cleaning, catering and transport. And there are jobs in those sectors," said Carlos Mellinger, president of Casa do Brasil, an organisation that supports migrants in London.
Caught in the middle
Unemployment in Brazil is at a record low, but the jobs most easily available are for highly qualified workers or those at the other end of the spectrum, who have just a basic education.
Workers in the middle - who have spent around 10 years in school but do not have any university or professional qualifications - struggle to find work.
It is these "middle" workers who make up a large proportion of the Brazilian community in London. "Brazil is great for those with qualifications, but that's not my case. I want to go back one day, but not now," said security guard Susej Pontes, from Amazonas state.
After seven years in London, Mr Pontes managed to get an Italian passport, thanks to his family's Italian roots.
He has bought land in Brazil with his savings and plans to build a small hotel, but says he will return only once he has everything organised.
Augusto Guadagnin did not plan his return so carefully, and his attempt to resettle in Brazil lasted only six months.
Now he is back in London where his family owns a small business selling Brazilian products in Kensal Rise - an area nicknamed Little Brazil because of its concentration of Brazilian shops.
"But I haven't given up Brazil. I'm returning again in April, this time to study, to have some professional qualification," Mr Guadagnin said.
Cathy McIlwane, a researcher at Queen Mary, University of London, agrees that the economic crisis in Britain and growth in Brazil have not created an exodus of migrants. Last year she published a paper calledNo Longer Invisible: The Latin American Community in London.
According to her research, most Brazilians in London want to return home (58%), but the reasons that brought them to Britain in the first place delay their plans. "Many came for economic reasons (31%) or because they had family here (33.5%). This makes them think twice before returning," Prof McIlwane told the BBC.
Prof McIlwane said middle-class immigrants tended to be the ones returning to Brazil in bigger numbers, attracted by good job prospects.
For the poorest, making money in Britain is not as easy as it used to be. Ten years ago, £1 bought six reais; now it buys three.
Time will tell
Demand for services at the Brazilian consulate in central London is so strong that the local authorities have complained about the long queues outside.
"It seems that there are even more Brazilians here," said Eduardo Roxo, a Brazilian diplomat. "I'm not sure whether the current growth in the country is enough to attract them back," he said.
However, some in Little Brazil say business has slowed and they are turning to other nationalities for custom.
"The Brazilians have disappeared. We are trying to hire a professional who is fluent in English to attract more than just Brazilians," says Paula Silva, who manages a hair studio with her mother. "In every 10 clients we had, six left for Brazil."
Prof McIlwane said only time would tell whether they had returned to Brazil for good.
"London has a mythical effect on people," she said. "It's a dream of social status."