Living in the ghost streets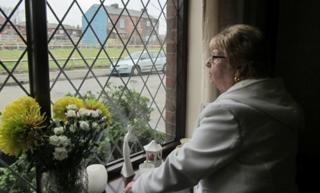 Thousands of people have been left "utterly stranded" in desolate streets up and down the country because housing regeneration schemes have stalled. What's it like to be the only resident on a road full of empty houses?
As Maureen Walsh sips tea in her homely back room, surrounded by family photos, it might be a scene typical in homes across the UK.
But a peek through her front curtains reveals something far from the norm; a patch of scrubby grassland where a terrace once mirrored her own.
Behind a wire-fence barrier, a single inhabited home of an elderly lady is propped up by the remains of its derelict, pigeon-infested neighbours, their gaping sides covered with tarpaulin.
"I just feel really, really sad when I look out of the window," says Mrs Walsh, who bought her two-bedroom terrace in Oldham with husband Terry in 1973.
"We've lived in this area for 50 years and it was a superb community. There's no community now, no children. All they've done is knock down houses, grass over the land and put little railings around."
London Road in Oldham's Derker district was just one of scores across England earmarked for demolition in 2005.
It was part of Labour's ambitious £2.2bn project to breathe new life into neighbourhoods "characterised by dereliction, crime, anti-social behaviour and poor services" and blighted by "housing market failure".
The 15-year Pathfinder scheme, initially in nine areas of England, was designed to attract private-sector investment to improve housing stock and increase demand. In places, it meant replacing terraces, said to be in low demand, with family homes with gardens and parking spaces.
But eight years on, the scheme was reeling from the successive blows of the recession, the collapse in house-building, and public spending cuts.
The coalition wound it up with Housing Minister Grant Shapps branding it a failure - "bulldozing buildings and knocking down neighbourhoods... demolishing our Victorian heritage".
However, MPs on the Communities and Local Government Committee now say government action to help those left in such communities is "a drop in the ocean" compared with the resources that are needed.
Its abrupt end left some neighbourhoods in limbo - including many householders who opposed the programme.
Mrs Walsh admits she was a "thorn in the side" of Pathfinder. While most householders moved out, she was among a minority who fought demolition in court.
She insists she was never against regeneration but that - if their house was to be flattened - they should get a like-for-like replacement.
Instead, she says she was offered an equity loan of £35,000 to bridge the gap between the price they would get for their home and the cost of a new-build.
"I used to say 'I'm 65, we worked hard to pay off our mortgage, why do I want a £35,000 loan?' - I didn't want to leave that for my kids," says Mrs Walsh.
In Liverpool, Toxteth's "Welsh Streets" became a Pathfinder cause celebre.
Built in the 1880s and given Welsh names by builders honouring their homeland, the terraces hit the headlines thanks to 9 Madryn Street, birthplace of former Beatle Ringo Starr.
No area better demonstrates Mr Shapps' opinion that the scheme "pitted neighbour against neighbour".
On one side was artist Nina Edge, who led the Welsh Streets Homes Group battling demolition. Her five-bed, three-storey townhouse fell inside the demolition zone, while the homes opposite were to be preserved.
New Heartlands - Merseyside's market renewal scheme - demolished 4,443 homes, building 2,844 and refurbishing another 20,157. However, the Welsh Streets have remained unchanged since they were emptied.
Where once children played, the streets are desolate. Metal grilles have replaced front doors, while bay windows are bricked up.
"The physical decline is really upsetting," says Ms Edge. "There are times I can't bring myself to walk up there. It's distressing to see the shocking waste. These were perfect homes."
Others, like Mary Huxham, had a very different view. She lived in nearby Powis Street for 68 years but was glad to leave the home where she had brought up her four children for a new housing association property nearby.
"We lived with rising damp, fungus, ice on the inside of the windows," she previously told the BBC. "I brought up four children in these horrible damp conditions. We want the streets to be demolished and modernised."
'Draughty places'
New Heartlands argued 72% of residents backed the scheme, with 90% happy after relocation. However, the National Audit Office criticised some aspects of the Welsh Streets consultation , saying an independent survey found just 52% of residents in support.
Ms Edge acknowledges her group's battle to stay put may have delayed the refurbishment of other people's homes earmarked for later phases.
"You go into the post office and you don't know if the people in there have been opposing you for years because they have been living in draughty places, and you're their scapegoat," she says.
Meanwhile, the Welsh Streets are still due for the wrecker's ball - although Kelvin Grove may yet get a reprieve after the council allowed Ms Edge's group to bid to bring its empty homes back into use.
Charities such as Save Britain's Heritage accuse councils like Liverpool of being too gung-ho on demolition.
But the authority points to plans for Anfield where - having been largely emptied by Pathfinder - streets in the shadow of the famous football stadium are earmarked for a new "village". With a housing association, the council aims to refurbish some homes, enlarge others by knocking two into one and demolish others to create gardens and parking spaces.
"Our policy is to refurbish wherever possible," says a spokesman.
"If people want to live in the houses, they won't be demolished. But if we want to make them sustainable then evidence suggests we need a mix of housing. We aren't in a position [financially] to dictate to developers."
Last year, ministers set aside £35.5m in transitional funding "to help families trapped in half-empty and abandoned streets" but have since faced criticism for approving bids largely focused on continued demolition.
David Ireland, of renovation campaign charity Empty Homes, says: "The transitional funding didn't envisage going on buying up more houses and demolishing those, which is what seems to have been done."
However, after the publication of the MPs' report, committee chairman Labour's Clive Betts told a parliamentary debate : "If nine out of 10 houses are not occupied and we still have to deal with the one that is, the only logical conclusion is to demolish."
Alicia Rose, 41, is facing just that scenario. She heard her Winifred Street terrace, in Liverpool's Edge Hill, was earmarked for demolition within weeks of moving in in 2005.
"I've watched everyone move one-by-one. It's awful," she says. "Hanging over me the whole time have been questions over whether to make repairs, put in new heating - or would I just be throwing away money."
Around her home, wires hang forlornly from long-forgotten satellite dishes. Plants protrude from guttering and through cracks in walls, while paint peels away from bricks and cladding.
Occasional stickers announce: "All items of value have been removed". It has not deterred thieves.
"I caught one guy on the roof next-door-but-one... he was probably nicking lead. It's scary," says Miss Rose.
Alicia has tried to keep her home looking neat, putting up a tidy wicker hanging basket outside, but misses a community around her.
"Last October there were four of us in the street. I held a street party with a PA and had my drum kit out - at least there were no neighbours to complain."
She says she is not a drain on society, has a modest amount of debt, works and volunteers in the community. But she felt she was being forced to take on a loan she could not afford, and instead of owning her own house would have owned "a bit of one".
With demolition imminent, she is yet to agree an offer from the council and faces a hunt for a new property that she believes will double her outgoings either through increased mortgage repayments or rent.
For some, however, there is light at the end of the tunnel. In Hull, 64-year-old June Rimmington and husband Geoff, 65, had lived in their two-bedroom Clyde Street home during four decades which saw them raise three children.
They too received a letter telling them it was earmarked for demolition - to make way for a park as part of a new housing development.
"We were happy. We'd had double glazing and central heating fitted and an extension put on the back," says Mr Rimmington.
"When they started to board up houses and people moved out, the area changed. There have been fly-tippers, squatters, people taking copper pipes and wiring. Now half the street has been boarded up and the other half is just in limbo."
They have agreed a price with the council which would allow them to buy a 50% share in a new three-bedroom property nearby and are waiting for confirmation the necessary funds are in place.
But the couple will not relax until they have moved in. "We've had so many false dawns," Mr Rimmington says.