Government urged to allow airport expansion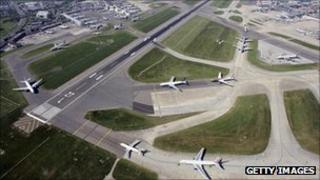 Seventy business leaders, MPs and trade unionists have called on the government to support airport expansion, including at Heathrow.
In a letter to the Sunday Telegraph, they say: "With the economic recovery so fragile, we cannot afford to cut our country off from growth and jobs."
The government has ruled out a third runway at Heathrow, but says it is exploring all other options.
A review of airport capacity is due to report later this month.
The letter to the newspaperincludes the signatures of Len McCluskey, the general secretary of the Unite trade union, and Simon Walker, the director general of the Institute of Directors.
It claims Heathrow airport is falling behind Paris and Frankfurt, which, it says, offer 1,000 more flights a year to the three largest cities in China.
Emerging markets
"There are 21 emerging market destinations with daily flights from other European hubs that are not served from Heathrow," the letter points out.
The letter does not explicitly refer to a third runway at Heathrow, in west London, but suggests expansion is essential.
"There is a huge opportunity for the UK to lead in connectivity to growth markets, but we need a hub solution that has the capacity to compete if we are to seize it," the letter says.
"Growth won't wait - while there are more ambitious long-term projects for aviation that can be examined, in the near term Heathrow must continue to be part of the solution if the UK is not to miss out on vital trading opportunities.
"With economic recovery so fragile we cannot afford to cut our country off from growth and jobs."
In its coalition agreement, the government said it would cancel plans for a third runway at Heathrow and refuse permission for additional runways at Gatwick, in Sussex, and Stansted, in Essex.
The decision followed widespread opposition from councils, residents and green groups. The Conservatives and Lib Dems had both opposed the plan in opposition, preferring improved rail links instead.
Thames estuary
A spokeswoman at the Department of Transport told the BBC: "As the chancellor made clear in his autumn statement, we will explore all the options for maintaining the UK's aviation hub status with the exception of a third runway at Heathrow."
Transport Secretary Justine Greening is expected to announce a new airport capacity review later this month, including the possibility of a new airport on reclaimed land in the Thames estuary.
In January a group of more than 30 Conservative MPs called on the coalition to rethink the decision to rule out a third runway at Heathrow.
But in October Ms Greening said she would not reconsider a third runway at Heathrow, and Labour has also said it is "off the agenda".