Euromillions jackpot won for fourth time in UK in 2012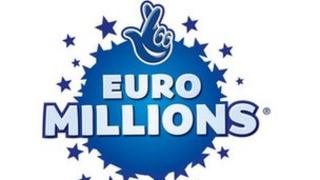 A ticket-holder has become the fourth person this year in the UK to strike it rich on Euromillions, but they have yet to claim Friday's £22.1m prize.
The person hit the jackpot with the numbers 5, 6, 11, 30, 44 and matched the lucky star numbers 2 and 6.
Euromillions UK operator Camelot said: "It's amazing to have another big winner here in the UK - we've been extremely lucky in recent years."
The most recent prize was just a week ago when a ticket-holder scooped £46m.
Last month Cassey Carrington and Matt Topham, both 22 and from Stapleford, Nottingham, won £45.2m and in January, Gareth, 40, and Catherine Bull, 35, from Mansfield, Nottinghamshire, won £40.6m.
David and Angela Dawes, from Wisbech, Cambridgeshire, won £101m last October.
The UK's biggest Euromillions prize was a £161m jackpot won by Colin and Chris Weir, from Largs, Ayrshire, in July 2011.
Nine countries - the UK, the Republic of Ireland, Spain, Portugal, France, Belgium, Luxembourg, Switzerland and Austria - participate in Euromillions, with ticket sales from all of them going into the jackpot fund.
Camelot said that as well as the chance to win "life-changing" prizes, Euromillions players had helped raise more than £27bn for National Lottery Good Causes, which benefit communities across the UK.