Caroline Spelman's son 'took drugs after sports injury'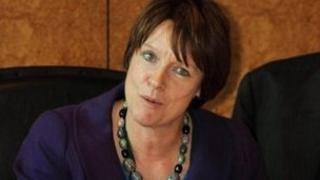 The Environment secretary's son is not appealing against a High Court decision to lift a privacy injunction about his use of banned substances following a sports injury.
Caroline Spelman's son Jonathan, 17, is an ex-England under-16 rugby player.
He first got an injunction this month to prevent a story appearing in the Daily Star Sunday about his sporting career but a judge decided to lift it.
The paper said it was "delighted that common sense has prevailed".
The Spelmans said Jonathan was "deeply sorry for the mistakes he has made".
Mrs Spelman is the Conservative MP for Meriden in the West Midlands.
She and her husband Mark said their son became injured in September 2011, when aged 16 and took some widely available drugs to aid his recovery.
Those substances, however, were "banned under anti-doping rules".
'Public interest'
The Spelmans went on to say Jonathan "has made a voluntary statement to the RFU and is now subject to their disciplinary process which is still ongoing.
"Our son knows that taking a banned substance can never, ever, be right and he is deeply sorry for the mistakes he has made and is determined to learn from them.
"We will do everything we can to support him as he faces the consequences of his actions. He is still very young and we hope he can be given space to do that."
The injunction preventing the publication of this story was initially granted at a private hearing by Mr Justice Lindblom, who said privacy could reasonably be expected over the information involved and publication would not advance the public interest.
Last week, Mr Justice Tugendhat had been asked to continue the privacy injunction.
Giving his decision in the High Court on Friday, Mr Justice Tugendhat ruled that it was "not necessary or proportionate" to continue with it.
The paper's editor Gareth Morgan said: "The use of banned substances by an elite athlete is a matter that is in the public interest and an injunction to hush up the facts should never have been sought.
"We remain bitterly disappointed that the Spelman family went down this route and attempted to silence the press using their wealth and influence, an option unavailable to ordinary members of the public.
"Again, we thank Mr Justice Tugendhat for the judgment he handed down last week, a judgment which remains a great victory for press freedom."