Chris Huhne trial set for October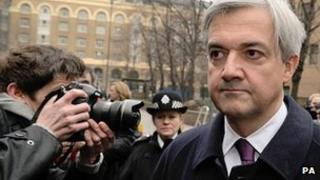 Former energy secretary Chris Huhne, 57, will stand trial in early October accused of perverting the course of justice, a court has ruled.
The Hampshire Lib Dem MP left cabinet to fight claims he persuaded ex-wife Vicky Pryce to take his penalty points for a 2003 speeding offence.
Ms Pryce, 59, faces the same charge, accused of telling police she was driving, and is yet to indicate a plea.
They were bailed until May. Their trial could start early, during the summer.
The pair sat one seat apart in the bullet-proof dock at Southwark Crown Court, where Mr Justice Saunders granted them unconditional bail.
Speed camera
He scheduled their trial for two weeks in early October, although the court heard it could go ahead sooner.
Mr Huhne's car was allegedly caught by a speed camera on the motorway between Stansted Airport in Essex and London in March 2003.
But accusations of impropriety only emerged in 2010, after the father-of-five admitted an affair with PR adviser Carina Trimingham and ended his 26-year marriage.
The decision to prosecute followed an eight-month investigation by Essex Police.
It emerged this week that Mr Huhne, thought to be a millionaire several times over, would receive three months' ministerial salary as severance pay, amounting to £17,000.
The MP for Eastleigh has hired John Kelsey Fry QC, the barrister who successfully defended Tottenham Hotspur manager Harry Redknapp against accusations of tax evasion.