Ryan Giggs loses damages claim against the Sun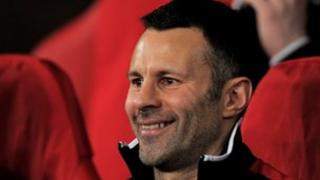 A damages claim by Manchester United and Wales footballer Ryan Giggs against the Sun newspaper has been thrown out by a High Court judge.
Mr Giggs was granted an injunction in April 2011 after a 14 April article in the Sun on an unnamed player's alleged affair with the model Imogen Thomas.
Despite the order, he was widely identified on social networking sites.
The newspaper had argued that the claim was "dead in the water", and it was dismissed at the High Court on Friday.
On 21 February, Mr Giggs consented at the High Court to being named as the footballer behind the injunction, which prevented the publication of details of an alleged extra-marital affair.
Mr Justice Tugendhat had been considering whether Mr Giggs could sue the Sun for alleged breach of privacy.
'Misused information'
During arguments at the High Court hearing, Hugh Tomlinson QC, for Mr Giggs, said the Sun "misused" private information in the article, in which the footballer was not identified.
Mr Tomlinson said Mr Giggs was claiming damages for the subsequent re-publication of information in other newspapers and on the internet, and argued that his claim should go to trial.
He suggested the Sun article "generated a large media storm" and said the damages claim was about "providing effective protection" for Mr Giggs's right to privacy - enshrined in the European Convention on Human Rights.
Richard Spearman QC, for the Sun's publisher News Group Newspapers (NGN), said the article reported Ms Thomas's relationship with a Premier League player and did not identify Mr Giggs.
He said the Sun behaved "properly" and was not responsible for what happened after the article appeared.
'No basis'
Mr Spearman said legal action had been "spun along for a long, long time" - an allegation Mr Tomlinson described as being "wholly without foundation" - and told the court: "Going forward, there just is not a basis."
In a written judgment handed down on Friday, Mr Justice Tugendhat said he had decided to "refuse to grant relief" to Mr Giggs.
Mr Giggs was originally granted an injunction on the basis that TV presenter Ms Thomas appeared to have been trying to blackmail him.
However, the 2003 Miss Wales and former Big Brother contestant took legal action against him and, in December 2011, Mr Giggs accepted that she had not been blackmailing him