Diamond Jubilee: Prince Harry names Belize road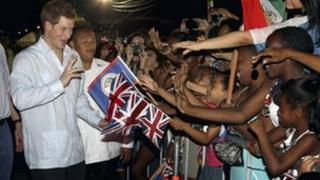 Prince Harry has officially named a new road in Belize after his grandmother.
The prince conducted the naming service for Queen Elizabeth II Boulevard in the capital Belmopan on the first day of his trip to the former British colony.
Belize is the first step on his first overseas solo trip on behalf of his grandmother, the Queen, as part of her Diamond Jubilee.
His seven-day tour will also include visits to the Bahamas, Jamaica and Brazil.
That visit is separate from the Queen's Diamond Jubilee celebrations, as part of which members of the Royal Family will visit the 15 other countries where she is head of state, along with some other Commonwealth nations this year.
Upon his arrival in Belize City, the prince was greeted by a guard of honour and his grandmother's representative in the country, Governor General Sir Colville Young, before travelling on to Belmopan.
There he took part in a street party, which was an opportunity for the hosts to show off Belizean music and food.
Prince Harry's private secretary has said he regards his visit as a personal tribute to his grandmother. In his speech he joked that he was sorry the people of Belize were "stuck with me" as a royal visitor instead of her.
"When it became clear that I was to represent my grandmother in Belize, my heart leapt - for a good reason," he said.
"She remembers so fondly her visits to this beautiful realm and speaks of the warmth of welcome she received on her most recent visit in 1994. I'm only sorry she can't make it and you're stuck with me."
Other engagements during his time in the country include a visit to ancient historical sites and laying a wreath at the memorial to British soldiers who have died in the country over the years.
The trip to Brazil after his time in Belize is in support of the government and his charity Sentebale, which supports orphans and vulnerable children in the African country of Lesotho.
Other royal tours as part of the Jubilee celebrations include a visit by the Duke and Duchess of Cambridge to the Far East and the Pacific.
The Prince of Wales and Duchess of Cornwall will visit Australia, Canada, New Zealand and Papua New Guinea, the Duke of York will travel to India and the Princess Royal is set to visit Mozambique and Zambia.
The host countries are likely to hold a range of events for the visiting royals, from official banquets and public celebrations to events that showcase the individual nations.
The Diamond Jubilee will also see the Queen, 85, and the Duke of Edinburgh, 90, travel as widely as possible across the UK to mark the occasion.