Briton Chris Tappin's US prison conditions 'upsetting'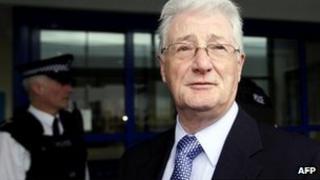 The prison conditions in which Briton Chris Tappin is being held in the US are "really upsetting" his family, his son has told the BBC.
Retired businessman Mr Tappin, 65, who is accused of exporting parts for Iranian missiles, was extradited last week following a legal battle.
His son, Neil, said his father was locked up in a cell for 23 hours a day and had nothing to keep him occupied.
Mr Tappin, who is being held in New Mexico, denies the allegations.
Neil Tappin told the BBC's Daily Politics show his father had nothing to read or to write on but "one of the most distressing things" was that the light was left on for 24 hours a day.
He said that the conditions were "really upsetting" the family and his father had "nothing to keep himself occupied; it's just him and his thoughts at the moment".
Neil Tappin said his mother had been able to speak to his father on the phone very briefly and that he said "he was OK, bearing up under the circumstances". But he said the conversation was cut off after about 10 seconds.
'FBI sting'
Mr Tappin, of Orpington, south-east London, made his first US court appearance on Wednesday. He was remanded in custody until Friday, when his lawyer said he would vigorously pursue the case for bail.
On Tuesday, Mr Tappin's wife Elaine broke down in tears as she described his case to MPs.
She told the Commons home affairs committee of her dismay that British courts were not interested in his case.
Attorney General Dominic Grieve told MPs issues with the UK-US extradition treaty were "not readily curable".
Critics say the treaty makes the extradition of British nationals easier than extraditing US nationals because the US authorities have to produce less evidence to support their case than their British counterparts.
But a review of extradition by senior judge Sir Scott Baker last year found the treaty was fair to British citizens.
Mr Tappin denies trying to sell batteries for use by Iran in Hawk missiles and says he has been the victim of an FBI sting.
The Briton, a former president of the Kent Golf Society, faces a trial and a possible 35-year jail sentence.
British judges say the extradition is lawful and the European Court of Human Rights in Strasbourg has refused to intervene.