Marriages in England and Wales up 3.7%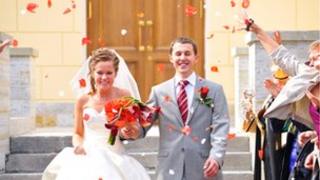 The number of people marrying in England and Wales has gone up by 3.7% but the rise may be due to a fall in overseas weddings.
The Office of National Statistics (ONS) said marriage numbers rose to 241,100 in 2010.
It is the largest increase since 2003, but the rate is very low historically.
Fiona Wood, of family law firm Pannone, pointed out there was an increase in weddings involving at least one spouse who had been married before.
Civil ceremonies accounted for 68% of weddings in 2010, compared to 64% in 2000.
The highest number of marriages was between men and women aged from 25 to 29, while the largest increase in those getting married was in men aged between 45 and 49 and women aged 30 to 34.
The statistics relate only to marriages in England and Wales and not weddings overseas.
The report said: "The increase in the numbers of marriages between 2009 and 2010 could be due to a reduction in the number of residents of England and Wales marrying abroad."
Economic gloom
A fall in weddings in glamorous locations like Las Vegas and the Caribbean could be explained by the economic crisis.
The ONS said: "Population estimates by marital status indicate that there has been an 8% decrease in the estimated number of marriages abroad, from an estimated 80,200 marriages in the year to mid-2009 to 74,000 in mid-2010.
"Marriages which would otherwise occur abroad may have taken place in England and Wales instead."
The number of same-sex civil partnerships rose by two per cent, from 5,687 to 5,804.
Ms Wood said of the figures involving divorcees: "I believe that could be connected to the increase in the number of men aged in their late 40s who choose to marry.
"They might have been through a difficult divorce but, on the basis of the cases we've seen, time is a great healer.
"The majority of people do not seem to be put off the idea of marriage. Individuals like Gary Lineker or Sir Paul McCartney are examples of just this sort of pattern."