Leveson Inquiry: Police chiefs deny News International influence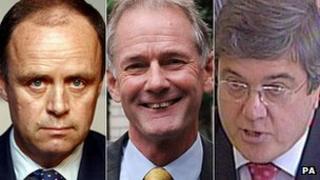 Ex-Scotland Yard police chiefs have told the Leveson Inquiry into press standards they were not influenced by ties with News International staff.
Ex-assistant commissioner Andy Hayman said he bought champagne for a News of the World reporter on a force account.
Ex-head of counter terrorism John Yates denied being influenced by NoW executive editor Neil Wallis, with whom he had meals and watched football.
Mr Wallis was arrested by police investigating phone hacking last July.
The inquiry is currently examining the relationship between the press and police.
Scotland Yard was criticised over its links to News International and its journalists in the wake of the hacking scandal.
The men denied that there was any influence from News International not to continue their investigations into the phone hacking scandal in 2006.
Former counter-terror chief Mr Yates, who resigned in July amid pressure over alleged links to a former executive at the now defunct NoW, has expressed "extreme regret" for ruling out reopening the phone-hacking investigation in 2009 since leaving his post.
He gave evidence via video link from Bahrain, where he is overseeing reform of the police force.
Mr Yates denied having an inappropriate relationship with Mr Wallis, former NoW deputy editor, with whom he attended football matches.
He said had been close to Mr Wallis but told the inquiry they did not have any improper conversations related to work because they had interests away from policing and newspapers.
"I wasn't influenced in any shape or form," he said.
"There is an element of professionalism and sound judgement that stops you going into areas you shouldn't go into".
He said he had cut links with Mr Wallis after his arrest.
Meanwhile, Mr Hayman, who led the original hacking investigation in 2006, told the inquiry he paid £566 for a meal with colleagues at a London restaurant in 2007 and spent £47 on champagne later that day.
The former police chief said he could not recall which NoW journalist he went for a drink with later that day at Oriel wine bar, in Chelsea.
He was also asked about his appointment as a columnist on the Times, a News International newspaper, for which he was paid £10,000 a year.
The former policeman was asked: "Do you think it creates or runs the risk of creating a perception of a relationship which goes beyond that which is appropriate?"
Mr Hayman, who said he had been in transition to retirement, said that "with hindsight" he could see Lord Leveson's point.
Last July, he was criticised by MPs for having dinners with News International journalists while inquiries were ongoing, with one MP suggesting he would have appeared a "dodgy geezer".
Earlier, ex-anti-terror head Peter Clarke told the inquiry informal media lunches were an "operational requirement" to balance debate over the UK's terror threat.
Terror threat
He said the press had been sceptical of the threat.
Briefings favoured no news outlets and were used to explain strategy, he said.
Mr Clarke also said he halted an investigation into newspaper phone hacking because anti-terror operations were putting pressure on resources.
Contrasting the hacking inquiry with counter-terrorism, he said: "Invasions of privacy are odious and at times they are illegal but - to put it bluntly - they don't kill you. Terrorists do."
Asked about a briefing attended by the group's owner Rupert Murdoch, Mr Clarke said the mogul had turned up unexpectedly. The former officer said he was "totally disinterested" between media groups.
Briefings had been conducted amid accusations of the terrorist threat being exaggerated to support UK foreign policy and at a time when large numbers of people were being arrested without being brought to trial, Mr Clarke said.
"The purpose was not to make the police look good but to try to balance the public discussion so that communities could have confidence in the objectivity and integrity of what we were doing," he said.
Mr Clarke was involved in the hacking inquiry as a result of his role in protecting the Royal Family.
'Closing ranks'
That investigation resulted in the jailing of NoW royal editor Clive Goodman and private investigator Glenn Mulcaire in January 2007, after they admitted intercepting voicemail messages left on royal aides' phones.
However, the Met was heavily criticised for limiting the scope of the investigation despite evidence from Mulcaire's notebooks suggesting there could be thousands of hacking victims.
Mr Clarke said a "closing of the ranks" had quickly made it apparent there would be little co-operation from News International.
At the time, he said, phone hacking was "not anywhere near the top of our concerns" given his unit was dealing with more than 70 operations into terrorist threats, including plots to blow up aircraft.
Leaked evidence warning
The Independent Police Complaints Commission has cleared all three officers of misconduct over their roles in the original investigation.
The watchdog also cleared Mr Yates of misconduct over claims that he secured a job for the daughter of Mr Wallis.
Meanwhile, Lord Justice Leveson has criticised leaks from his inquiry, including the recent revelation that Scotland Yard loaned a horse to former News International chief executive Rebekah Brooks, which appeared in the Evening Standard.
He has warned that he could restrict the advance release of witness statements to core participants - people who have a significant interest in the hearings or may face criticism - if such leaks continue.