London 2012: Huge queues likely at Olympic ticket booths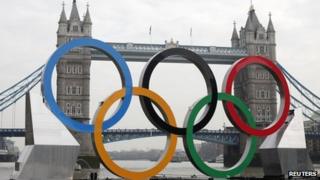 Some of the most sought-after London 2012 Olympics tickets are to be sold at special ticket booths in the weeks leading up to the Games.
Tickets for events such as the men's 100 metres final are likely to be made available.
London 2012 organisers are expecting that the booths will lead to lengthy Wimbledon-style queues.
There are predictions some sports fans will camp out for days in order to get their hands on the very best tickets.
The final round of online ticket sales will take place in April, with a million tickets being made available.
Those people who unsuccessfully applied for tickets last year will have priority in this process. However, it has now become clear that not all the remaining tickets for the Games will be put on sale in April.
London 2012 staff are still making final decisions about how many tickets they can sell at each venue.
For example, a number of tickets have been held back while broadcasters decide where all the television cameras will be located.
One of the most complicated calculations revolves around the opening ceremony. Organisers must try to predict how many athletes will want to attend. Until that figure is known they have no choice but to keep extra tickets from going on sale.
There are also particular issues around the main Olympic Stadium. Every venue has to host an official test event. The main stadium's test event is not being held until the beginning of May, after the final round of ticket sales.
It is only after testing has finished that final seating configurations can be confirmed, so London 2012 will have to keep some tickets for all the athletics sessions out of the April sale.
All tickets which are held back from the sale in April will be made available at special London 2012 ticket booths in the weeks before the Games.
It had always been planned that London 2012 would set up booths for any remaining tickets for the less popular events, such as football.
It is now clear that when the booths open in June or July there will be opportunities for members of the public to acquire tickets for some of the most popular events.
More than two million people applied last year for tickets to the Opening Ceremony. There is bound to be enormous demand if extra tickets for events like this are put on sale in the booths. London 2012 organisers are already making plans to cope with long queues.
Large areas outside the main ticket booth, which will be near the Olympic Park, will be set aside for those planning to bring tents and sleeping bags.