Leveson Inquiry: Rebekah Brooks's phone 'hacked weekly'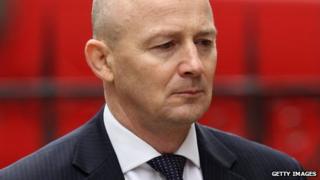 Former editor of the Sun Rebekah Brooks had her phone hacked twice a week, the Leveson inquiry has heard.
Det Chief Supt Philip Williams, who led the original Metropolitan Police phone-hacking investigation, said the practice had begun in 2005.
However, he gave no indication as to who had been hacking Mrs Brooks's phone.
This stage of the inquiry is focusing on the relationship between the media and the police.
Det Chief Supt Philip Williams also explained how the 2006 probe into phone hacking at the News of the World was carried out.
Victim list
He said he judged a criminal offence had occurred if an intercepted voicemail had been a "new and unread" message.
He revealed the mobile phone companies had not known this type of activity was possible until police informed them.
Clive Goodman and Glenn Mulcaire were jailed in 2007 for hacking offences.
Det Chief Supt Williams said that during the course of the 2006 investigation his colleague Det Chief Supt Keith Surtees - who also gave evidence on Wednesday - had compiled a list of those who had been "potentially compromised" and it tallied at around 418.
Goodman, who was the royal editor at the now-defunct Sunday tabloid, and private investigator Mulcaire - who was hired by the paper - were jailed in January 2007 after admitting to intercepting voicemail messages left on the mobile phones of royal aides.
On Wednesday Det Chief Supt Williams said at the time of the investigation he was a detective superintendent at S013 - the Met Police's anti-terrorism branch - which he said was under "huge pressure" in the wake of the London 7/7 bombings.
He told the inquiry into media standards and ethics that he was then asked to lead Operation Caryatid. It began in December 2005 to investigate possible interception of the voicemails of mobile phones within the royal household.
He said that the investigating officers spoke to Vodafone, which established that nine outside phones - including that of Goodman's home line - were accessing voicemails belonging to the royal household.
Initially Vodafone did not believe this was possible but after police persisted it, and other companies, discovered it could happen.
Det Chief Supt Williams said the investigation focused on intercepted "unread" voicemails, adding: "We coined an analogy of the 'unopened envelope on the desk'".
He said the investigation identified five potential hacking victims within the royal household and had concluded hacking was "probably quite widespread" among those with an interest in it.
Det Chief Supt Williams said he was briefed material seized from Mulcaire showed people from all walks of life - including politicians - had been targeted.
But, he added, this did not mean Mulcaire had broken the law in relation to those people.
He said some of the phone companies found it challenging to provide the police with the data requested and he had expected the companies to inform their customers if they had been affected.
Counsel to the inquiry, Robert Jay QC, said only O2 had done this.
Det Chief Supt Williams agreed with Mr Jay that there were further leads which could have been followed up but added solicitors working for the News of the World had been obstructive.
He said the investigators came to a stage where they speculated that if they proceeded any further, the case would have become "broader" and a "major step change".
It was then, Det Chief Supt Williams said, that a decision was taken not to expand the investigation as it would have required "a lot of painstaking research".
Newspaper search
Det Chief Supt Williams also said that he "didn't think we had enough evidence to arrest anyone" following the initial investigation into phone-hacking.
Lord Leveson then pointed out that Mulcaire's notebooks contained information about News of the World journalists seeking his services.
Det Chief Supt Williams said these names were "not enough" and that he had no proof the journalist knew Mulcaire was using illegal means.
He also told the inquiry that "there was absolutely no intention to hide anything".
Det Chief Supt Keith Surtees, giving evidence, told the inquiry that when police conducted a search of the offices of the News of the World in 2006, those officers were "effectively surrounded and photographed and not assisted in any way shape or form" by the paper's employees.
"The search was curtailed and did not go to the extent I wanted it to," he added.
He also told the inquiry that the incriminating information they were seeking may have been hidden or destroyed before they could access it.
Det Insp Mark Maberly is also due to speak later.
'Illegal payments'
Meanwhile Prime Minister David Cameron has told Parliament "it was hard to think of any circumstances" where it would be right for police officers to take payment for stories.
His comments follow Deputy Assistant Commissioner Sue Akers' appearance at the inquiry earlier this week.
She alleged evidence discovered by the Met Police suggested a "culture of illegal payments" at the Sun newspaper.
During Prime Minister's Questions, Labour leader Ed Miliband also asked the prime minister if Education Secretary Michael Gove was wrong to say the inquiry was having a "chilling effect" on freedom of expression.
Mr Cameron said Mr Gove - and the cabinet - fully supported the inquiry.