Police pensions: Policy Exchange urges overhaul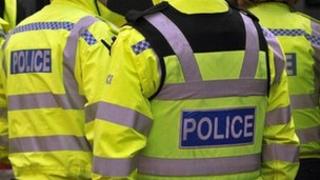 Ministers should make "wholesale" changes to the pension scheme for police officers in England and Wales, a think tank report has recommended.
Policy Exchange said the scheme had become "unaffordable" for taxpayers at almost £2bn a year.
It called for a move away from a final salary to a career-average scheme and raising the retirement age to 60.
The Police Superintendents' Association for England and Wales said the report was "disingenuous".
Most officers can retire at 48, after 30 years' service, on two-thirds of their final salary.
The right-of-centre think tank said the scheme was now a "drain on police budgets".
'Fight crime'
Costs have risen almost 80% in real terms over the past 15 years and £1 in every £7 spent on policing goes on pensions.
The report said taxpayer contributions had risen from £951m in 1995-1996 to £1.9bn in 2009-2010 - but police officer contributions fell from 31% to 23%.
The reportrecommended reforms in line with the Hutton review of public sector pensions, raising the pension age to 60 and moving to career-average payments.
But it said "bold" reforms were required in the longer-term for a less costly scheme that gave officers more choice and was open to civilian police staff.
Report author Edward Boyd told BBC Radio 4's Today programme: "Police officers do have a generous pension. On average they get an amount that is double the public sector average.
"There is a reason for that. They genuinely work longer in their careers and they pay in a high amount. They do a difficult role and they deserve to be well paid.
"Our analysis has looked at how affordable though this is to taxpayers and to officers and it shows the state of play is worse than we previously thought - the costs have increased significantly over the last 15 years.
He had earlier said: "A growing pensioner population, primarily down to increased life expectancy coupled with only minimal changes in the retirement age, has increased costs substantially over the last decade."
'Extra payments'
BBC home affairs correspondent Danny Shaw said police average pensions were higher than those of firefighters, soldiers, teachers and NHS workers.
But Derek Barnett, president of the Police Superintendents' Association for England and Wales told Today police did a "dangerous" and "stressful" job and should be rewarded fairly.
"I think the problem is that part of that contract with the public in return for doing that job there is a reasonable expectation of fairness and a pension.
"The problem is if you isolate, as this report did, one particular element of that contract, it seems to distort the cost to the taxpayer without recognising the changes that have occurred in recent times," he said.
Mr Barnett added he did not recognise the figures used in the report and Mr Boyd was focusing on a 30-year pension scheme that had been closed to new applicants in 2006.
He said: "There is a new pension scheme where police officers have to work for 35 years.
"I do contend the report is, perhaps, disingenuous to say the least."
Mr Boyd said the figures had been collated from publicly available Home Office statistics, Freedom of Information requests to police forces in England and Wales and the Treasury.
"These are all legitimate sources of info. All we've done is put it together and explain it in this briefing note," he said.
'Difficult job'
Last year, Home Secretary Theresa May outlined large increases in police pension contributions.
Officers will pay between 1.5 and 4 percentage points more of their salaries, with the increases staggered over three years.
The extra payments will vary according to salary bands and the section of the scheme the officers are in.
The proposals are similar to those announced for teachers, civil servants and NHS staff.
Mrs May said the higher payments were needed to help the government raise an extra £2.8bn from public service pension scheme members to help fill its spending deficit.
The Police Federation of England and Wales said in response it would "do everything within our means to ensure that the value of police officers' pensions continue to reflect the difficult job that we do".
Mr Barnett said the report had assumed every officer would complete their full 30-35 year service.
"Sadly many will retire before that because they are either injured, they die or they suffer from the stress of the job," he said.