Newspaper review: Leveson inquiry dominates press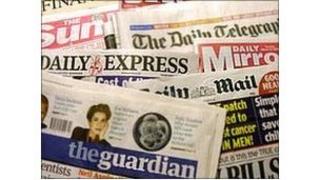 The Leveson Inquiry into media ethics dominates the papers - after the police themselves alleged that Sun journalists paid out thousands to senior officers.
The Guardian'sNick Davies described thisas "a rare moment when a cynical press was stopped in its tracks".
The paper devotes six pages to the inquiry's latest revelations.
Daily Telegraph cartoonist Mattdepicts a police officer witnessing a nightclub fight. "Hold the Front Page", he says - "I mean, request for backup".
Hacking ordeal
The Sun though ignores the furore andfocuses on the "successful"launch of the Sun on Sunday, boasting of the three million copies plus sold.
Singer Charlotte Churchtells the Independentwhy she accepted News International's offer of £600,000 for her own phone-hacking ordeal.
She said wanted to protect her mother from having to face a court case.
TheDaily Mail warns the UK is Europe's "fuel tax capital"and urges the government to cut taxes to create jobs and wealth.
'Gravest threat'
Deputy Prime Minister Nick Clegg's letter to Lib Dem MPs and peers calling for major changes to the Health and Social Care Bill intrigues the press.
The Mirror dismisses itas "their latest effort to spin the gravest threat to the NHS in its 64-year history."
The Telegraphcalls upon the government to hold its ground, while acknowledging MPs have managed to pull off a masterclass in how not to legislate.
The Timeswarns the Tories that they had not considered the wider picture when it came to the NHS and other policies - and that is why they have found themselves in trouble.
"The Costa curse" is repeated in several headlines after another of the company's ships ran into trouble in the Indian Ocean following a fire.
TheIndependent says it is another public relationsdisaster for the owners of the Costa Concordia - the cruise ship which capsized last month.
The Express focuses on actressAngelina Jolie's "shapely" right leg, which "stole the show" as it peeked through her Versace Oscars dress.
It now has its own Twitter account with more than 12,000 followers.