Police rape investigations criticised by watchdogs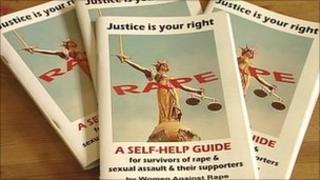 Police in England and Wales have been criticised by watchdogs for failing to spot links between sex attacks and for not identifying rapists early enough.
The Inspectorate of Constabularies and the Crown Prosecution Service inspectorate said that intelligence had to be used in a more systematic way.
They said detectives had got better at apprehending sex attackers.
But, in a joint report, they criticised the number of allegations of rape closed as a "no crime" in some forces.
'Robust case'
Dru Sharpling, HM Inspector of Constabulary, told BBC Radio 4's Today programme there needed to be a "systematic filter" to ensure links were made between the offenders and crimes carried out.
"We found some good examples of detective work, but at the heart of this report lies a better, more structured approach to gathering intelligence, using that to identify perpetrators, making a robust case for prosecution and getting on and doing it," she said.
The reportcomes two years after a major review said police focused too much on rape conviction rates alone, and not enough on the support that victims need.
In this new report, the inspectorates said that police had to look beyond conviction rates - but they also had to be more systematic in how they used intelligence to catch attackers.
They said that the rise in rape cases was likely to be down to victims putting more trust in the police to solve crimes - but forces had to do more with the intelligence they had to keep pace with the cases coming to light.
It said that only three forces in England and Wales had up-to-date "rape problem profiles", a special system that is used by detectives to draw together all available information on crimes and potential suspects.
Some forces were confused about labels such as repeat or serial, hampering the ability of their teams to spot local or national patterns.
The watchdogs called for police to make much better use of information about foreign convictions for rape - information which can be requested through Interpol.
And it said that although DNA fragments could play little part in proving a case in court, police could make more use of them to help to direct their inquiries and eliminate suspects.
Ms Sharpling added: "We have got to be clear that there is no intelligence system that is going to be completely infallible.
"But there are systems and practices - some of which are underutilised - which can be improved upon - so that front line investigators have a better chance of forging those links across offenders and offences."
She said attitudes toward sex crimes such as rape had changed over the years but there was no room for complacency.
"I think there is plenty to do to ensure those systems keep pace with the change of attitude. There is considerably more to be done to tighten them up," she added.
The review highlighted substantial variations between forces in the number of rapes that remained under investigation compared with those which were categorised as "no crime".
'Consistent approach'
Disparities in these figures first came to light in a BBCFreedom of Information request last year. The BBC's research found that one force had closed the files in 2% of rape cases - while another constabulary did it almost a third of the time.
Overall, almost 12% of rapes in 2010 were "no crimed", compared with just 3% of cases of grievous bodily harm, said the report.
Michael Fuller, chief inspector of HM Crown Prosecution Service Inspectorate, said that while there had been progress, closer working between prosecutors and police should be the standard in all rape investigations.
Chief Constable Dave Whatton, the Association of Chief Police Office's lead for rape and serious sexual offences, said: "This review rightly acknowledges improvements in recent years to the way victims of rape are treated.
"As with any review, we need to ensure that the best practices are shared amongst all to ensure consistency in our approach to supporting victims and investigating and prosecuting rape."