Nine more cases of Schmallenberg livestock virus reported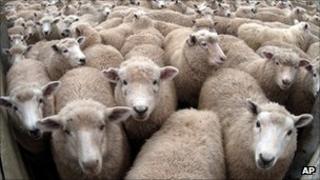 Nine more farms in the south of England have reported cases of a disease which causes birth defects and miscarriages in livestock, the government says.
It means a total of 83 cases of the Schmallenberg virus have been reported in the UK.
Earlier, the National Farmer's Union warned British cases of the disease may be "under-reported".
Humans are thought to be unaffected by the virus, which is understood to be spread by midges, mosquitoes and ticks.
In England, it has now been identified on the Isle of Wight and in Wiltshire, West Berkshire and Gloucestershire.
This is in addition to farms in Norfolk, Suffolk, Essex, Kent, East and West Sussex, Hertfordshire, Surrey, Hampshire and Cornwall, which have previously identified cases.
Infection is apparently symptomless in adult sheep. However, the virus can damage the foetus when pregnant females are infected, leading to a range of deformities at birth.
The Department for Environment, Food and Rural Affairs said it suspected livestock may have got the virus from infected midges blown across the Channel from affected areas in Europe.
None of the affected farms have imported animals during 2011 from the affected areas in mainland Europe.
The impact of the disease on the UK sheep flock should become clear over the next two weeks as the lambing season reaches its peak.
Low risk
The UK's chief veterinary officer, Nigel Gibbens, said that at present, there was little farmers could do to protect their animals.
He told the BBC: "With a vector-borne disease like this, there really is very little you can do and time will tell whether it will need a vaccine.
"We know that vaccine manufacturers are showing an interest but it takes them time - quite often two years or so - to develop a vaccine."
He added that the disease did not appear to pose a risk to humans.
"The European Centre for Disease Control, who looks at this across Europe, and our own health protection agency looked at this very early on, and, given the knowledge the experts have of this group of viruses, they seem to affect only animals.
"We can't, of course, rule that out but we think the likelihood is very low. It's always, with a new virus difficult to talk about 'never', but all the indications are that human health won't be affected."
Unknown virus
Ian Johnson, a spokesman for the south-west England branch of the National Farmers' Union, said farmers were worried about the disease.
"Nobody knows much about the virus and nobody knows the extent to which it may have spread," he said.
"That will manifest at peak lambing time in March and April."
He said the risk should be kept in context - last year in south-west England 25,000 cattle had to be slaughtered because of Bovine TB, he said, while so far fewer than 100 cases of Schmallenberg have been reported.
He added "the problem is, it's an unknown", and went on: "Potentially, it could be extremely serious depending on how widespread it is."
Mr Johnson urged farmers who suspected their livestock might be affected to report it.
Chris Partridge, a sheep farmer from Suffolk, told BBC Radio 4's Today programme of the moment he realised some of his stock had been infected.
He said he had not known about the disease until last month when two lambs were born malformed and dead.
"I spoke to the vet the next day and they told me about it. And from there we had several more cases over the next few days," he said.
"Lambing time should be a joyful time of year and it is something I normally look forward to but this year it has been very depressing because having lambs born alive and having to kill them, or having them born dead, is very unpleasant."
He said the extent to which his ewes were affected remained an "unknown quantity" because the infection in sheep does not have any symptoms. Mr Partridge does not know whether others will be affected.
"If it goes across the country in commercial flocks it really will be very significant. The advice is that there is very little we can do," said Mr Partridge.
Jamie Burrows, 29, who works at Sandridgebury Farm in Hertfordshire,told BBC Newsbeat"waiting around" to find out if the farm was affected was unnerving.
He said: "I think the fear at the moment is the unknown, we are about to start lambing here and there are no clinical signs of disease so we won't know whether we're going to be affected until then."