Insurance 'struggle' for 200,000 homes at flooding risk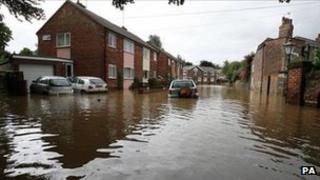 Up to 200,000 homes could struggle to get insurance against flooding next year, according to council leaders.
The Local Government Association (LGA) wants to replace a soon-to-expire 'safety net' covering flood-risk areas.
It commits insurers to offer insurance to existing customers at significant risk of flooding if there are plans to reduce that risk within five years.
The government said it does not want impossible burdens put on the taxpayer.
The LGA has written to the government and insurers calling for the Flood Insurance Statement of Principles to be replaced, saying it could potentially risk an £11bn liability. That statement expires next year.
It said people in areas including Nottinghamshire, Worcestershire, Devon, Kent and Huddersfield had been refused or priced out of home insurance because of flood risk.
Clare Whelan, from the LGA's environment and housing board, said: "Councils are the organisations to which people turn for help in their hour of need.
"However, we simply cannot afford to take the risk of being left to foot a multi-billion pound bill if we see more devastating scenes like those in Cockermouth three years ago."
She said the insurance industry had a responsibility to help people manage risk and "should not be allowed to hand-pick low-risk homes".
She added: "We all remember the wave of destruction the 2007 floods caused.
"It is imperative the insurance industry commits as soon as possible to providing affordable and fair insurance premiums once the current safety net agreement expires next year.
"Some families are already struggling to find cover for their homes, and we run the risk that tens of thousands more could soon face a double whammy of greater risk of flooding while being left unable to get insurance."
'Foolish developments'
Nick Starling, director of general insurance at the Association of British Insurers, said members were determined that flood insurance remained as "widely available and competitively priced" as possible.
"Insurers do not want to see people priced out of home insurance and have stood by their high flood risk customers under the Statement of Principles agreement for over 12 years," he said.
"We now urgently need the government to work with us to ensure that a sustainable flood insurance market is in place once the agreement ends in June next year."
He added that the LGA needed to "recognise that local authorities have a role to play".
"It is not enough just to point the finger at the insurance industry.
"They need to commit to investment in flood defences, and ensure that there is no more foolish development in high flood risk areas, particularly given the rising flood risk."
Environment Minister Richard Benyon has previously said that it was wrong to impose impossible burdens on the taxpayer, adding that the government wanted to make sure that insurance continues to be available for the vast majority of households.
The Department for Environment, Food and Rural Affairs (Defra) has said it would consider targeted support over the next few months and said further announcements would be made in the spring.