Newspaper review: President Assad's regime condemned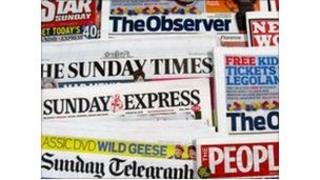 There is widespread condemnation of President Assad's regime in Syria.
TheSunday Telegraph asks if anyone can stop the slaughter, while theSunday Timescalls for an immediate ceasefire but says there is no good case for western military intervention.
Model Katie Price, a columnist for the newly launchedSun on Sunday, says Marie Colvin, the reporter killed in Syria, was "utterly fearless".
She said Colvin proved women had just as much strength as men.
Lucrative contracts
A whistle-blower has told theIndependent on Sunday that she was intimidated by the welfare-to-work firm A4E, which is at the centre of a police fraud investigation.
The Observer says Emma Harrison, the company's chairman and former Downing Street adviser,received £1.7m over two years by leasing properties she owns to the firm.
The paper says her resignation highlights the number of private firms given lucrative contracts to do work previously done by the public sector.
Therapy
TheSunday Expresslaunches a campaign to raise awareness of mental health issues, with the support of the deputy prime minister.
In an article for the paper, Nick Clegg says mental health issues are "Britain's biggest taboo".
Meanwhile, author Sue Townsend, who is best known for her Adrian Mole novels, says success left her so depressed she was in therapy more than 20 years ago.
She tells the Sunday Times that she gave away much of her fortune.
Oscar parties
Oscar-buzz is humming through the papers with many predicting the winners.
Victoria Beckham tells thePeopleshe is excited for British prospects, while theMail on Sunday says Sir Elton John and Madonna are waging war over who throws the best post-event party.
TheMirror says The Artist director Michel Hazanavicius finds it amusing people have walked out of the cinema when they realise the film is silent.
He adds that he is happy that the film has been so successful.