'Family focus' of new-look Sun on Sunday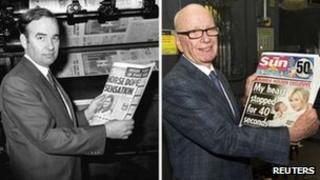 It is recognisably the Sun, rather than the News of the World: an upbeat family paper with no sleaze, no kiss'n'tells - and not even a topless page three, though the picture of former Destiny's Child singer Kelly Rowland comes close.
The front page splash (continued on four pages inside) is an exclusive interview with Amanda Holden, who tells the paper her heart stopped for 40 seconds when she gave birth to her baby Hollie last month.
In the accompanying photographs Ms Holden looks radiant - remarkably so for one who came so close to death.
There is an interview with a beaming Gary Oldman, news that Amy Winehouse's ex, Blake Fielder-Civil, is to work as a drugs counsellor and a picture of David Beckham giving his youngest a piggy-back.
War widow Christina Schmid tells the paper she had had a second miscarriage just before her husband, the bomb disposal expert Staff Sergeant Olaf Schmid, was killed in Afghanistan.
And Liverpool star Luis Suarez's granny, tracked down in Uruguay by the Sun's chief feature writer, tells the paper it is her fault her grandson's been banned for calling Manchester United defender Patrice Evra "negrito" - she used to call little Luis by the affectionate pet name, "Mi negrito".
'No remarkable scoops'
With columnists including ex-page three model Katie Price, Nancy dell'Oglio and Heston Blumenthal, this looks like a paper which has a largely female readership in its sights.
Though, as you would expect from the Sun, there is plenty of sport as well, including a 28-page football pull-out and a back page which cannot make up its mind whether Harry Redknapp and the England manager's job or Andre Villas-Boas' troubled tenure at Chelsea is the better story.
It is an altogether gentler, but also less exciting read than the News of the World, and there are no remarkable News of the World-style scoops.
Is that because there was too little time before launch to find any?
Or because reserving first-rate exclusives until Sunday in a seven-day newspaper is a good deal more difficult than in a standalone operation?
'Is that it?'
Judging by the initial reaction on Twitter, many media types were underwhelmed, in particular by the front page splash.
Tony Blair's former director of communications, Alastair Campbell, tweeted: "Sun on Sunday have clearly put a phoney front page out. Real one will be second edition. Otherwise major 'is that it?' problem".
In its editorial the paper alludes to the phone-hacking scandal which led to the News of the World's demise and gave birth to this new replacement (it is much cheaper to run as part of a seven-day operation than what a standalone paper would have been).
Some of the Sun's own journalists have since been arrested as part of police investigations into possible payments to police officers and other public officials.
"We believe those individuals are innocent until proven guilty," the paper says, before assuring its readers that they can trust its journalists to behave decently.
The editorial also refers to its 43-year history as a tabloid, maintaining that it has been a tremendous force for good.
Rupert Murdoch was at the paper's giant printing plant in Broxbourne, just north of London, to see the presses roll, just as he was at the presses in the Sun's former home just off Fleet Street back in 1969 when he re-launched the paper.
The print run for this first Sun on Sunday was more than three million, compared with the Sun's weekday sale of 2.8 million and the News of the World's sale, before its closure, of 2.7 million.
Rupert Murdoch says he would be happy with sales for the new Sunday edition of substantially more than two million.
But Sunday newspaper circulations overall have fallen by almost half in the last 10 years as readers (and advertisers) have deserted to digital media.
To launch a new title in those circumstances is a quixotic gesture, but one which manifests both its proprietor's attachment to the Sun in particular, and his faith in the future of newspapers in general.