Stephen Hawking museum visit signals return to health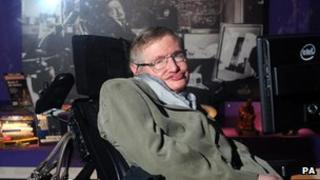 Professor Stephen Hawking has visited London's Science Museum in a visit that signals an improvement in the 70-year-old's health.
Last month, the famous physicist was forced to pull out of a birthday reception at the museum due to illness.
But on Saturday Prof Hawking got a chorus of Happy Birthday from well-wishers and typed "thanks" on his computer.
The scientist took a tour of the museum and described it as "one of my favourite places".
Roger Highfield, the museum's director of external affairs, said: "When our visitors saw him come into the museum there was a fantastic buzz of excitement and a big crowd gathered."
An exhibit marking the professor's life - Stephen Hawking: A 70th Birthday Celebration - is currently on show there.
It includes objects and papers from his own archive, the suit he wore for his zero gravity flight in 2007, and a script from his appearance on The Simpsons.
'Be curious'
Professor Hawking turned 70 on 8 January but had to pull out of a symposium at Cambridge University that day, as well as his planned museum appearance.
However, in a recorded message, he used the Cambridge gathering to warn that humans would not "survive another thousand years" without beginning to colonise other parts of space.
He also called on people to "be curious" and "look up at the stars and not down at your feet".
Prof Hawking - who entered the popular consciousness thanks to his bestseller A Brief History of Time - was diagnosed with motor neurone disease when he was 21.
Many experts say he has defied medical science by reaching the age of 70 as his degenerative illness usually proves fatal within five years of diagnosis.